Posted by HTMLPanda
Web based application have evolved significantly over recent years. These applications offer many advantages over traditional software-based applications.
These days, a lot of business happens over the internet. Everything, from selling diverse products or services to enabling users to download various multimedia products such as videos, games, music, etc. A web-based application made everything easily available and accessible over the Internet. HTMLPanda a top-notch web apps development company serving hundreds of clients all across the world. We have a team of highly skilled developers & designers who utilize advanced technologies and trends to build powerful, scalable, and robust web based applications that can meet all your business needs.
We bring you with a well-planned strategies for your business, online transactions through secure networks, intelligent assistance in selection of products & services, etc. Therefore, our web apps development is simply developing one step closer to achieve all your business goals.
How does a web based application work?
Web based applications don't require installation & updating that save a lot of administration work for large companies.Well, web based application use a combination of server-side scripts such as (PHP & ASP) to handle the storage and retrieval of the information, and client-side scripts like (HTML & JavaScript) to present information to users. They usually coded in browser support language to render the program executable.
Some of the applications are dynamic and require server-side processing while other are completely static which do not require processing at the server. The web based application requires a web server to manage requests from the client, an application server to perform the tasks requested, sometimes database to store the information.
Function of web based application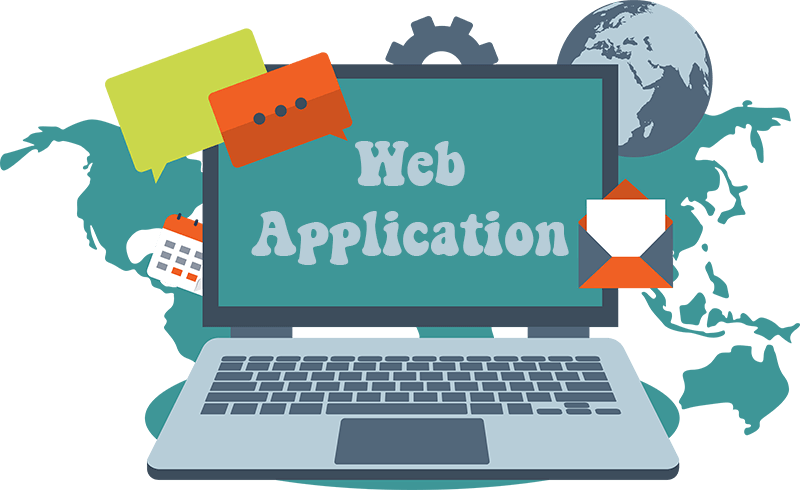 Web based applications allow creating documents, share information, and work on common documents regardless of device and location. Common web-based applications include webmail, online auctions, online retail sales, instant messaging services and many other functions. Some top examples of web apps developments are Google Docs, Pixlr.com, Codepen.io, Evernote and Trello, Netflix, Think Dropbox, Gmail, etc. We analyze your requirements and build a trusted, visually rich user-product relationship to boost adoption and satisfaction. A perfect UI design and superior user experience is key to success of our web-based applications.
Important Benefits of Web-Based Applications
Anywhere/anytime accessible:
By using web based application, anyone can work from anywhere with the internet access. It opens up exciting modern possibilities like global teams, home working, and real-time collaboration. Also, all the data is available from anywhere after the user logs in. Businesses can check their current inventory status or total sales from anywhere with your mobile device instantly.
Cost-effective development:
With web based application, users can access the system through a uniform environment the web browser. It only needs to be developed for a single platform to save you from compatibility issues on different operating systems. There is no need to develop & test it on all possible OS versions and configurations. Thus, web app development cuts down the cost and connects with the users in a great way to streamline their systems and improve the overall process.
Easily customizable:
As compared to desktop applications, the user interface of web based applications is easier to customize. One can easily customize the presentation of information and can easily update the look and feel of the application.
Easy installation & maintenance:
Once a new update or version is installed on the server, all the users can access these updates easily. This makes the installation and maintenance process less complicated for all users and there is no need to upgrade the system of every potential user. Also, one does not have to go through the process of heavy backups to be taken on the disk space, etc. The new software can be accessed easily by updating browsers and plugins.
Easy integration with different applications:
A greater level of connectivity between web-based applications can be achieved with its isolated desktop systems. For example, it is easy to integrate a web-based shopping cart system with a web-based accounting system than it is to get two proprietary systems to talk to each other. The different function of web-based application makes it possible to rapidly integrate enterprise systems and improve the work flow and other business processes.
Enhanced security:
Web-based applications are typically deployed on dedicated servers that are maintained & monitored by experienced server administrators. In the case of desktop-based applications, it is difficult to monitor hundreds or even thousands of client computers. Hence the security is maintained on a single-front and potential breaches can be noticed more quickly.
Final words
Now, web based application offers a competitive advantage that allows business to consolidate and streamline their systems and process and reduce costs. These web-based apps are easier to develop, install, and maintain and can be run on any type of devices such as (desktop, mobile, tablet, etc). The web apps development is in rapid flow and playing a vital role in the overall success of today's online business.