Who can Avail Our Web Development Services
We comprehend your business wants and offer top-level JavaScript development solutions for your clients to excel in the market and get higher revenue.

You can rely on us for the top-notch front-end development for your startup website or web app. We are well-versed in creating engaging and outstanding front-ends.

Enterprise sites are vital for promoting new ideas, services, and products. We have extensive experience in developing, architecting, and maintaining enterprise-level web applications.
Trusted by Leading Brands
Top-level brands choose us for building high-performing JS web solutions as we provide a highly scalable & user-friendly interface with best code quality.











Button
JavaScript Development Services We Offer
Our experienced JavaScript experts build result-driven JS web solutions with a wide range of services like:
Custom JavaScript Development

Get end-to-end highly custom JavaScript web solutions for your business from our experienced developers who leverage all the customization capabilities and build dynamic, flexible, and secure JS websites.

JavaScript Web Development

JavaScript developers at HTMLPanda have a deep understanding of delivering unique, user-friendly, and interactive web applications. We use multiple JavaScript languages to provide bespoke solutions.

JavaScript Enterprise Development

With proficient JavaScript experts on board, we build highly interactive website solutions at an enterprise level crafted to your business goals for complete efficiency and a streamlined approach.
JavaScript eCommerce Development

Our expert team develops a robust and feature-packed eCommerce website by leveraging the latest JavaScript technology. We add features like an easy checkout process, multiple payment gateways, personalization, etc.

Front-End UI Development

Our team of JavaScript developers builds a feature-rich JavaScript front-end with a user-friendly UI and flawless UX using the latest libraries and advanced JS frameworks.

JavaScript Portal Development

At HTMLPanda, the skilled team of JS developers builds an interactive web-based JavaScript portal with seamless navigation and lets your brand gain a competitive edge.
Explore Our JavaScript Web Development Portfolio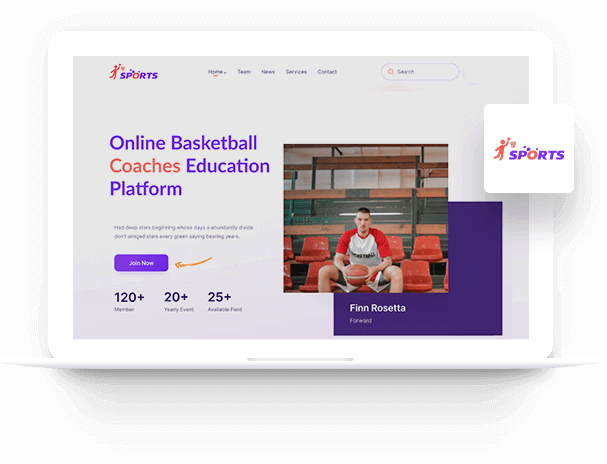 Ilutras
Ilutras is a social media management platform that lets you schedule your post to publish on different sites.
Visit our Portfolio
background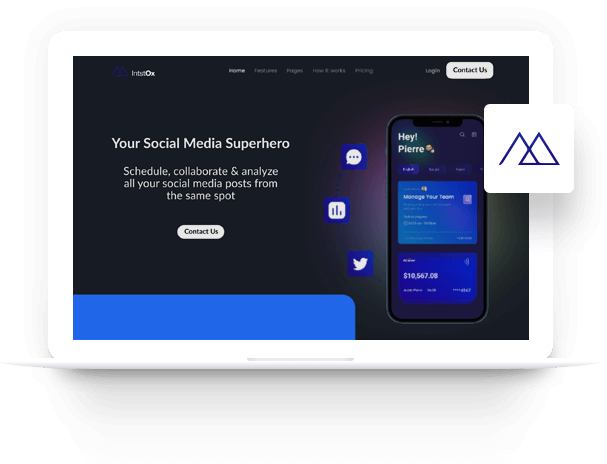 IntstOx
IntstOx is a gaming-based website incorporated with different games under the experts and best guidance with easy learning.
Visit our Portfolio
background
Acclamations

HTMLPanda Listed Among Top Companies
Why Choose Us for JavaScript Development Services?
JavaScript developers at HTMLPanda deliver a wide range of custom, front-end, and eCommerce JavaScript development services on time.
We have a team of skillful JavaScript developers who create high-performing JS development solutions with proper planning, testing, analyzing, and programming.
Get end-to-end JavaScript development solutions from our proficient JS developers who match your business needs and facilitate the development of a dynamic JS website.
We leverage the latest JS frameworks and libraries to ensure fast, effective, result-driven, and easy development of JavaScript web solutions.
15K+Projects Done
8K+Happy Clients
07+Successful Years
92%Repeat Client
50+Engineers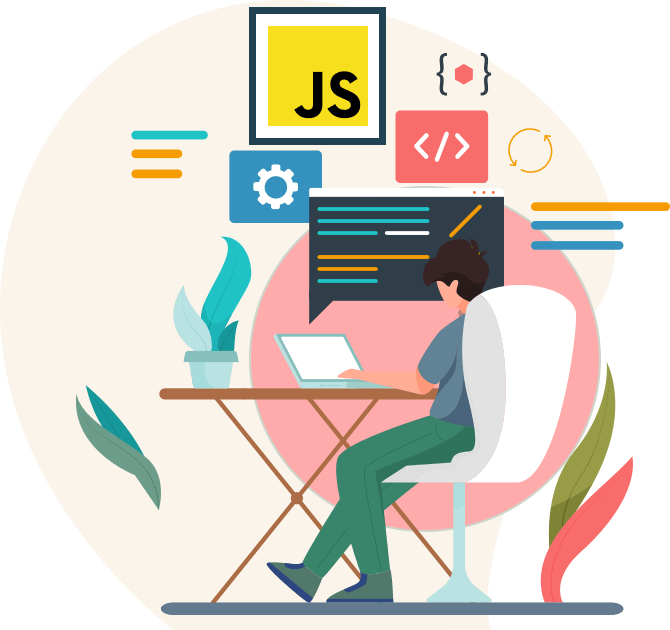 How We Develop Scalable & Engaging JavaScript Website
Security and Scalability

Our skilled JavaScript developers perform integrity checks, updated patch versions, and frequent tests for NPM vulnerability to build highly secure and scalable Javascript solutions.

Convenient User Experience

Our certified team of JS developers builds a user-friendly JavaScript environment to boost the user experience with a broad range of JavaScript libraries and frameworks.

Enhanced Data Analysis

At HTMLPanda, JavaScript developers have a better understanding of data processing, and they analyze the data for a profitable business irrespective of the industry vertical.

High Performance

We build result-driven, persuasive, and secure JavaScript website solutions with an engaging user interface for better user experience by avoiding memory leaks, etc.
Why Choose JavaScript for Web Application & Website Development?
JavaScript is a well-known programming language that develops dynamic, feature-packed, and interactive web applications and websites. HTMLPanda offers the following features to provide best-in-class solutions.
Powerful Frameworks

JavaScript has robust frameworks, and one of them is Angular that develops the single-page application smoothly. Another one is React that makes parallel programming effortless.

Rich Interfaces

JavaScript is incorporated with rich interfaces that let you add multiple functionalities to your web solutions. Moreover, it has a drag-and-drop factor that adds value.

Extended Functionality

JavaScript is a versatile and powerful language that extends the functionality of your website by writing snippets of JS for third-party add-ons.
Quick and Responsive

JavaScript is highly responsive on multiple browsers with a smooth scroll effect, and it has beneficial variables that give a perfect user experience.

Universal Platform

JavaScript is a universal and independent platform with HTML integration that functions well on Windows, Macintosh, etc. In other words, it runs on every platform.

Community Support

JavaScript has excellent community support that speeds up software development and makes it bug-free. Moreover, it helps in promoting your products and services.
Media Coverage
HTMLPanda got featured on some eminent and top-rated websites.
What Do Our Clients Say?
I am happy with the web development services offered by HTMLPanda. They developed a high-end-performing website for my business with a compelling UI/UX.
It was such a pleasure collaborating with HTMLPanda as they have an experienced and professional team of developers who have done a great job on my JavaScript-powered website.
Even though I had a tight time frame, the JS developers at HTMLPanda still delivered an A1 quality website. I will recommend any startup company to go for this organization.
HTMLPanda team has hands-on experience in coding and programming skills, and their way of developing a website is exceptionally over the top.
I was highly impressed with the working environment of HTMLPanda! The team offered quality services throughout the development process.
Let's Kick Start Your Website
Development
What is JavaScript mainly used for?

JavaScript is used for front-end and back-end to develop dynamic and interactive web solutions with client-side script implementation.

How much does it cost to develop a JavaScript web solution?

The cost for developing a JavaScript website depends upon various factors like development platform, project complexity, number of features, and more.

How long does it take to develop a JavaScrip web platform?

Again, several factors decide the development time of JavaScript, such as project complexity, testing, development platform, and more.

What are the advantages of outsourcing JavaScript?

Outsourcing JavaScript has various benefits like reduced development time, reassurance of quality products, a better understanding of the platform, access to experts, etc.

How would you secure my JavaScript web solution?

We follow proven security measures to ensure your web solution security like integrity checks, regular testing to avoid NPM vulnerability, etc.

Do you test the JavaScript development solution before its actual launch?

Yes, we examine the JavaScript development solution before its final launch. We make sure that the final product is bug-free, has and is functioning accurately

Do you provide any maintenance support for the JavaScript project?

We give maintenance support for the latest and existing JavaScript project to make sure that this development solution is error-free and functioning well.