Posted by HTMLPanda
Mobile apps are continually boosting & Artificial Intelligence (AI) is rapidly empowering this evolution with more stunning & advance feature mobile apps. In today's highly competitive business world, it is not an easy task to meet ever-rising customer demands. Artificial Intelligence is a great milestone in mobile app development as it provides more power to mobile apps. In fact, it has created a great impact on human interaction with machines & devices. Whether it is the Machinery or Telecom industry, Travel, Utility, or Media industry. HTMLPanda is a leading mobile app development company that provide you feature-rich, high-quality & incredible mobile applications by effectively integrating AI and other advanced technologies.
In mobile app development with Artificial Intelligence (AI), we help you to greatly enhance the customer's experience, faster decision-making, by assimilating the enormous capacity of information.
How AI will be a Powerful Tool In Mobile App Development To Meet Users' Expectations?
Artificial intelligence brings more convenience, features, and functions to an app. However, the most popular apps continue to utilize some form of AI to improve overall user engagement, ease, and personalized experience. Therefore, an app with AI can meet customers changing needs. The use of artificial intelligence & machine learning allows developers to create highly interactive apps that know how to organize and analyze data that helps to create the most possible engaging experience for the users.
AI-driven apps have done a lot to make average consumer life easier. For example, VPN apps like Amazon's Alexa & Apple's Siri. This app proved that AI is the new way to go when it comes to mobile app development.
Why Artificial Intelligence (AI) based mobile apps will continue to be a top trend?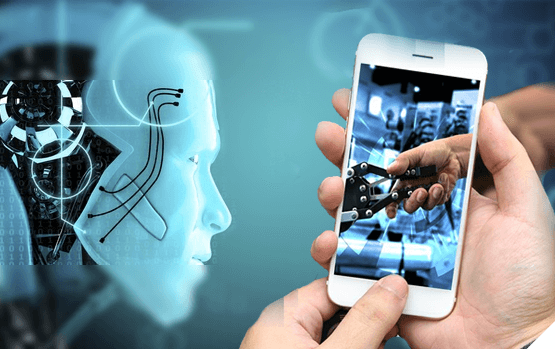 There is no doubt that in the coming year's new applications will be intelligent apps. These apps will be based on machine learning, artificial intelligence, and real-time data which helps in making smart decisions & delivering the highly engaging experience to the end users. As these apps will be a combination of customer data, product insights, prescriptive analytics, operational vision with modern user-focused design & application development tools to create a highly impressive experience for users.
The apps based on AI has the potential to change the face of work & structure at companies in the upcoming years. More and more companies will use and develop intelligent apps to offer top-class customer experiences. You will see the use of artificial intelligence across different industries & applications such as:
Chatbots
Predictive Analytics
Security Tooling
Enterprise Applications
Context-Aware Smart Sensors
Is Artificial Intelligence discovering new opportunities for app developers?
Till now, AI has been quite successful for different apps when it comes to the user engagement as well as business growth. AI assists users on the basis of the huge amount of user information by means of analyzing this user data and behaviors. It takes into account user location, contacts, buying pattern, etc. Artificial intelligence enables app developers to discover & distribute something that's new and exciting.
The AI-based apps essentially leverage data, algorithms, advanced technologies and continuous learning approach & improve the interactions of people and machines by anticipating the actions. So, developers always have the opportunity to consistently learn from every user interaction and behaviors. Developers have begun to scratch the surface for what's new possible with artificial intelligence.
Smart Home Gadgets & Applications of Artificial Intelligence (AI)
IoT (Internet of Things) & smart home gadgets are getting popular for mobile applications. Owing to smart home gadgets, our screen is now increasingly getting filled with AI-powered mobile apps. For example, AI-based smart alarm clock. Hence, smart gadgets are providing another way for AI in the mobile app development.
There has been a recent emergence of different AI-powered smart platforms from various mobility firms which are pushing for this type of integration. Google Assistant, Microsoft Cortana, Amazon Alexa are some of the great examples powered by artificial intelligence.
AI and ML will challenge app developer algorithms
When users interact with an app they always demand superior experience. Now, developers with artificial intelligence can develop such algorithms that results in enhanced experiences. The user behaviors & other demographics can be adjusted accordingly with the use of the app. It results in seamless user experiences, more intelligent applications, and changes the way developers, users approach mobile app development.
Conclusion
The popularity & rapid growth of artificial intelligence across all fields of businesses and real-life Scenarios have turn into a magnificent phenomenon. Today's combination of artificial learning & machine learning has transformed the creation of more attractive and engaging mobile apps with the capability to adjust various user behaviors during engagement with an mobile app. AI will continue to gain grounds, so the mobile app development industry can expect a lot from this technology.