Education was, is, and will always be valuable.
Agreed?
We are all aware of the importance of education and learning in today's world. Whether you are a student, working professional, or an entrepreneur, if you're not learning, you will stay behind. And in today's competitively-driven world, no one wants (and can afford) to stay behind the times.
Due to the advent of technology and digitization and of course, the COVID-19 pandemic, online courses have become a great alternative to the traditional education approach. Per UNESCO, over 1.3 billion learners in 186 countries are out of classrooms and locked in their homes.
E-learning platforms have been in the market for quite a long but got more recognition after pandemic and lockdown. People are adapting to this new world well. By 2025, the online course market will generate about $25 billion. In fact, Forbes' research says that the e-learning market will reach $325 billion by 2025. So indeed, e-learning platforms are booming unprecedentedly.
These stats and figures encourage businesses to invest in e-learning solutions. Consequently, they look for a reliable web development company that can help them build impactful and learners-friendly e-learning websites. 
What Is an E-Learning Platform?
In layman's terms, e-learning (also called online learning) means electronic learning, which means any type of learning made through digital devices. For instance, if you are using your desktops, laptops, mobile phones, tablets, or any other gadgets for online learning and education purposes, that's e-learning.
E-learning websites offer flexibility, are self-paced, suitable for everyone, provide different learning techniques, give access to more people and more data, eliminate geographical constraints, and are often low in costs. Udemy and Coursera are successful and the most popular examples of an e-learning portal.
Types of E-Learning Platforms:
Massive Open Online Courses (MOOCs)

Online Learning Platforms

E-Learning Marketplaces

E-Learning Web Conferencing Software

Video-Based Learning

One-On-One Online Learning

E-Learning for Teachers
Benefits of Having a Successful E-Learning Website 
Let's uncover the benefits of having a successful e-learning website.
Flexibility 
Rather than confining a learner to a classroom, city, or country, an e-learning website lets him/her study more conveniently. So, with e-learning website development, you can provide extreme flexibility to your platform users by facilitating them to learn from different spaces.
E-learning websites can be accessed from any location at any time that the users want, inspiring them to learn and study.
Cost-Efficient
Unlike the traditional learning approaches, an e-learning website is much more cost-efficient. For an entrepreneur, it saves additional expenses such as paying salaries to staff, rent for classrooms, and others. Moreover, it also saves the printing costs as the study materials remain online, and it is easy and quick to update them. In addition, it also saves travel from the different cities, thus reducing travel and accommodation costs.
Expands Learning Opportunities
The expansion of learning opportunities to a large number of audiences is another key benefit of an e-learning website. By creating an e-learning website, you can reach lots of learners because they can easily connect to your platform with an internet connection. Hence, no matter where the people are in the world, they can get the opportunity to learn just like on websites such as Udemy, Coursera, Edx, and more. To facilitate your audience with the outstanding functionalities of the e-learning website, you can leverage the website development services by partnering with a competent development partner.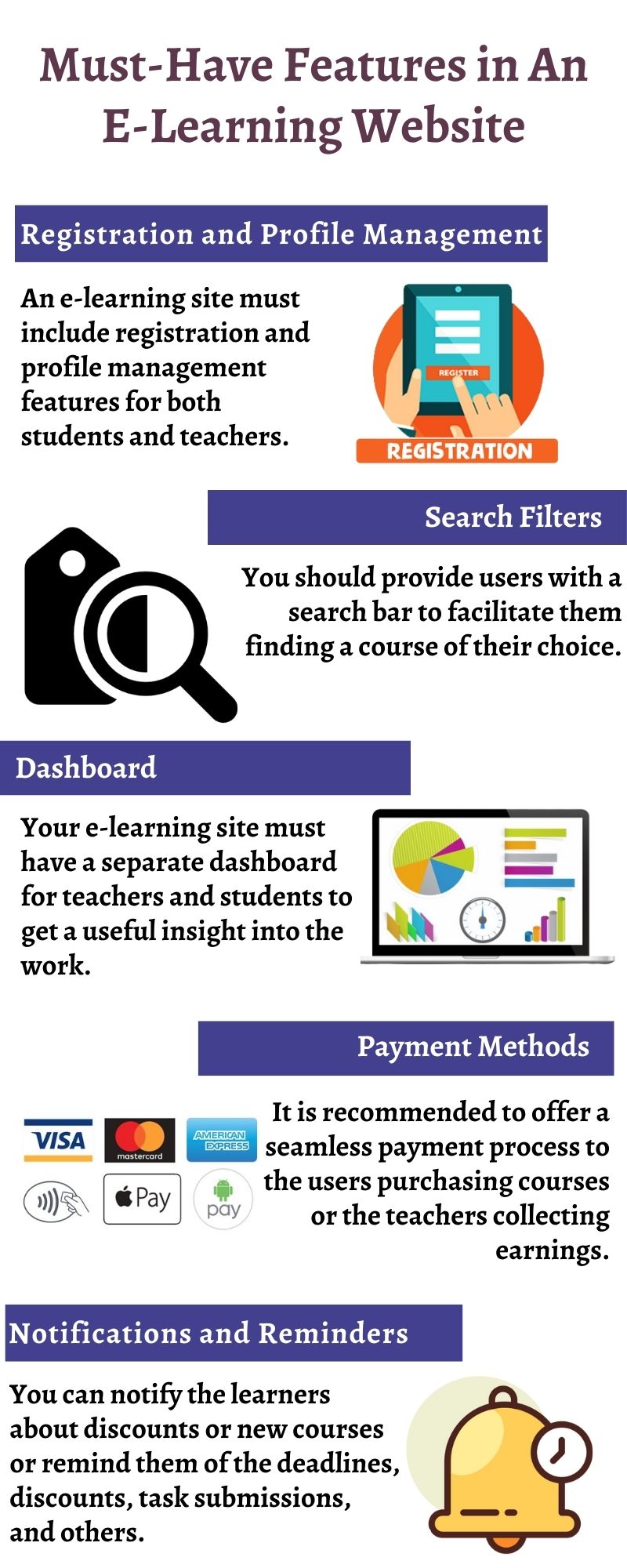 Must-Have Features in An E-Learning Website
Registration and Profile Management
In an e-learning website, there must be an authentication feature for both teachers and students. They must go through an authentication process. The widely used way is by using the phone number/email and password. 
The profile management feature of an e-learning website is different for teachers and students. The details in the student account will be –
Their profile picture

List of ongoing/completed courses

Their certificates and rewards information

Purchasing history
Conversely, the details of a teacher account will be –
Information about their qualification

List of courses
Search Filters
There must be a searching tool on your e-learning website to facilitate users finding the course of choice from the catalog of courses present on the website. There should be things like search bars where users enter keywords, filters (by price, language, etc.), etc.
Therefore, while availing of website development services from a development partner, you must include the search filters in your project requirements to make searching easy for your audience.
Dashboard
Similar to the profile management, the dashboard is different for the students and teachers. It helps them to track their progress and get useful insights into their work. As an example, students can see their enrolled courses, their completion status, etc., while teachers can see their ratings, earnings, list of courses they have added, the number of enrolled students, and others. 
Payment Methods
There should be convenient and secure payment methods in your e-learning platform for both students and teachers. For students, there should be an easy payment process for the paid courses, while there is a convenient way to collect earnings for teachers. 
With custom e-learning website development, you can integrate a seamless payment method into your website without compromising on quality. Some of the popular payment methods are – debit/credit cards, PayPal, and others. Moreover, it is recommended to add more payment options when you are targeting different regions or countries.
Notifications and Reminders
Your e-learning website must notify the learners about their course deadlines, discounts on fresh, relevant materials, and others. Notifications will help users to submit tasks on time, generate certificates, get discounts, and many others.
So, during the e-learning website development process, you must include the above features in your website to facilitate learners and tutors with a seamless website experience. 
7 Easy Ways to Build an E-Learning Website That Attracts Learners
Determine Your Niche
You have decided to build an e-learning website, but have you decided on your niche yet? Yes, it's imperative to define your niche. To do so, think of all the courses you are going to offer. Are you willing to offer a wide range of subjects from personal development, health, and fitness to computers and technologies? Or do you aim to launch an industry-specific education marketplace? Decide what you want to start with.
Research Your Target Audience
Having a successful website is directly proportional to reaching your target audience. Agreed? And the hunt for target users starts with research. So explore and find out who your target audience is. Are they students? Employees? Or someone else. Ask questions like who will be interested in your e-learning website? What's the age of your potential users? So on. And then offer them personalized content accordingly.
Know Your Competitors
To make your online learning website competitive, you need to know who your competitors are. So before diving headfirst into the industry, gauge the market and find out about your actual rivals. Gather as much information about your competitors as possible. Find out what they're doing right (to learn) and where they're going wrong (to learn). This way, you will get to know what you should do and what you shouldn't, to succeed in the e-learning market.
Focus on UX/UI Design
A visually attractive and highly functional website catches users' attention and keeps them engaged. How can you make that happen? Through effective UX/UI designing. UI design will take care of the aesthetics (like colors, fonts, animations, and other elements), and UX determines how users interact with your website. That said, both UX and UI need to go hand in hand to impress your target users.
Technology Stack You Need
A lot goes into making a successful e-learning website, and the technology stack is one of them. The technology stack can make or break your e-learning website. Therefore, you need to choose the right ones. Explore and find out the most advanced newest, and best-suited programming languages, frameworks, and tools for your online learning website. Once you identify the right tools and technologies, you are good to go.
The Core Features to Incorporate
The appropriate functionality can bring the learning experience alive. Hence, choosing and implementing the right features is of utmost importance. Easy signup, smart searches, filter options, recommendations, categories, easy and friendly dashboard, multiple payment options, and customer support are some core (and irresistible) features you should incorporate to make your e-learning site successful.
Choose the Development Approach
When you build an e-learning website, you have mainly two options. Either you can create it from scratch (custom development) or leverage one of the ready-made website solutions available on the market. If you aim to give competition to websites like Udemy, Coursera, Udacity, edX, and other similar giants, we highly recommend you go with a custom development approach that enables you to add features of your choice.
Factors That Influence The Cost of Building An E-Learning Website 
How much do you need to spend to make a successful e-learning website like other big giants? Is there any fixed amount that is something standard for all types of e-learning sites? No, there's not. The cost of creating an e-learning website entirely depends on the functionality and features (discussed above) you will incorporate, type, size, niche, budget, and various other considerable things. 
If you are inspired by the success of e-learning websites like Udemy and are considering e-learning website development, you need to know the cost of developing such a website. However, it is not easy to determine the cost without several details. Let's see some of the factors that influence the website development cost of an e-learning website. 
Complexity
The complexity of an e-learning website depends on customer expectations. The more functionalities and personalization you require in the website, the costlier the e-learning website development will be. So, you must be aware of the features you require in your website to make a better cost estimation.
Developer Rates
It depends on whether you hire an offshore or nearshore developer team for your project. The range of their development rates may vary as per their locations. Moreover, pay close attention to the technology stack as the more complex it is, the more you will need to spend on specialists.
Type of Website
The type of website development is defined by your business goals. The cost of creating a website depends on its type, whether it is a blog site, corporate site, web portal, educational website, social media platform, etc. For developing a landing web page, the estimated cost might be $3000; it could be $6400 for a corporate site, $40,000 for an educational site, etc.
Apart from the above-mentioned cost-influencing factors, some others are domain name, web hosting, maintenance, SSL certificates, and many others.
How to Select a Website Development Company to Build Your E-Learning Platform?
When thinking of developing an e-learning website, you will have two ways, either hire an in-house team or outsource your e-learning website development project to a competent e-learning website development company. Though both have their benefits and limitations, outsourcing the project will be a better option.
Choosing a competent website development partner is not easy as it looks. Hiring the wrong specialists will result in your project's failure. To keep away from such situations of hiring the wrong development partner, we are sharing some tips that you should consider while taking the website development services from a company.
Check Company's Portfolio
The first step is to check the company's portfolio to know its specializations. It will help you understand whether they can fulfill your project requirements or not. Checking their portfolio will enable you to evaluate the functionalities of the project they have completed earlier. You will have a good estimation of their website development skills with this approach.
Read Their Client Reviews
In addition to their portfolio, you can enhance your research by checking their reviews and ratings on different platforms such as Clutch, Goodfirms, and others. It will provide you with a better idea of their working methods, client feedback, and rankings, among other website development companies.
If possible, try to contact their previous client to get direct feedback about their services. You can ask them how satisfied they are by availing the services with the development partner you are choosing for your project.
Communication and Collaboration
You can check their communication process by asking a set of questions like whether they are available on different communication channels like email, phone, video conferencing, and others. In addition, you can look for their accessibility by noticing the responding time of your queries. It is also an essential factor you must consider before hiring a website development company for your e-learning website development platform.
Can They Work As Per Your Business Standards?
Every business owner wants to follow some standards on their website. They can be the guidelines describing quality, safety, performance, testing, etc., that an entrepreneur wants to be followed in their website development process. 
As stated earlier, you can look at the set of websites they have mentioned in their portfolio to get information on whether sites follow the guidelines that you want in your website. You can even directly state your business standards to the company and ask them to include them on your website.
Apart from the tips mentioned above, you must also look at whether they provide post-development support or follow the W3C coding standards during website development. You must also be well-versed with your business requirements and project requisites to hire a well-suited development partner for your project.
Summing It Up
Today's learners long for unique and personalized products to enhance their skill sets. So if you aim to build an e-learning website with uniqueness and exceptional functionalities, you can easily surpass other big e-learning platforms in the market.
We hope this post helped you understand how you can create an impactful e-learning website and how much does it cost. Implement all the discussed points correctly, and you will soon build a highly competitive online learning website. So go ahead and breathe life into your e-learning portal idea right away!