In this era, when consumers prefer online shopping, starting an online store is becoming essential. So, if you have not decided to start an online store, it is high time to do so. Many eCommerce platforms let businesses set up their online store. One of the most well-known names is Shopify. 
Shopify is the most considered user-friendly eCommerce platform that is secure and quick to set up. It includes everything you require to start or grow your eCommerce business. It lets business owners set up the online store as they want in a cost-friendly manner. 
Furthermore, it enables you to develop mobile-responsive storefronts for your clients, which is the most desired one in this digital era. You can hire a reliable Shopify web development company for customized online store development, as they have a team of professionals that can help you build and manage your eCommerce store. 
But due to its wide use, numerous companies offer Shopify development services. Therefore, it is not so easy to find the right one. We must consider some factors before finalizing a competent one for online store development. So, what are such factors? 
Keep scrolling the page to know about things to consider before hiring a Shopify development partner, the need for choosing them, their comparison with freelancers, and the cost of partnering up with them.
Before directly moving towards the aspects, let's first look at the details that make Shopify an ideal eCommerce platform for your eCommerce website development.
Reasons to Choose Shopify for eCommerce Website Development
Shopify offers the amazing benefits that make it unique from various eCommerce platforms. It provides a wide range of tools and mobile-friendly features. You can avail the Shopify website development services to leverage the benefits of Shopify in your online store. 
Let's start exploring the reasons why you should choose Shopify for developing your eCommerce website.
Mobile Responsiveness
The number of mobile users has seen a steady rise over the years. Thus, it is essential to have a mobile-responsive online presence for its success. Shopify has mobile-responsive themes that let you build mobile-optimized online stores for your business. So, with the best assistance, you can manage your online store with iOS and Android mobile applications.
Customizable
Shopify offers a wide range of mobile-friendly UI templates for your online store. It presents many possibilities to businesses, manufacturers, and dealers to choose from an ocean of choices. 
Moreover, the themes are customizable by editing the code. Therefore, with custom Shopify development services, it is easy to create an amazing online store as per your brand requirements.
Own Payment Gateway
For an online retailer, it is vital to integrate a secure payment gateway in the online store. Shopify makes it easier to set up a payment gateway for the store owners. Since it has a default payment gateway, it eliminates relying on third-party payment services and accepts payments via different popular payment methods, including debit cards, credit cards, and others. 
SEO-Friendly
Another major advantage of choosing Shopify for eCommerce store development is its powerful SEO features that help your website get a high rank in search results. It lets customers easily find you. As a result, your site will gain more visitors that directly enhance your sales.
Thus, Shopify is not just an online store builder, but a platform with all the features a website requires to land in the top results.
Easy Setup
You don't need extensive technical knowledge to set up an online Shopify store. It is quick and easy to set up the Shopify eCommerce platform. It undoubtedly makes things simple for business owners to handle and manage the store once set up. 
The benefits of Shopify do not stop here. For a better understanding of the power of this eCommerce platform, you need to know more about the Shopify eCommerce website development.
What Would Be Better: A Freelancer or Shopify Development Company?
With a competent eCommerce development company, you will team up with professionals who will focus on providing the best services, be it in SEO, development, or others. Moreover, they ensure that the project is delivered within a set timeframe. 
Apart from that, they listen to your needs and help you accomplish the goals you have envisioned with your online store. Their years of experience let them adopt unique strategies to cater to your eCommerce website development needs. Hence, if you hire a Shopify expert for your project, you will benefit from a seamless development process.
On the other hand, finding a well-qualified and skilled Shopify freelancer requires a lot of research, and failing to do so means losing your time, money, and efforts. Thus, it is not easy to find a relevant one; it is time-consuming to look for another and repeatedly explain your visions.
Regarding cost-effectiveness, hiring a freelancer is cost-friendly compared to a company. Freelancers are best suited for startups with a low budget, a small project, or a particular task with customized inputs.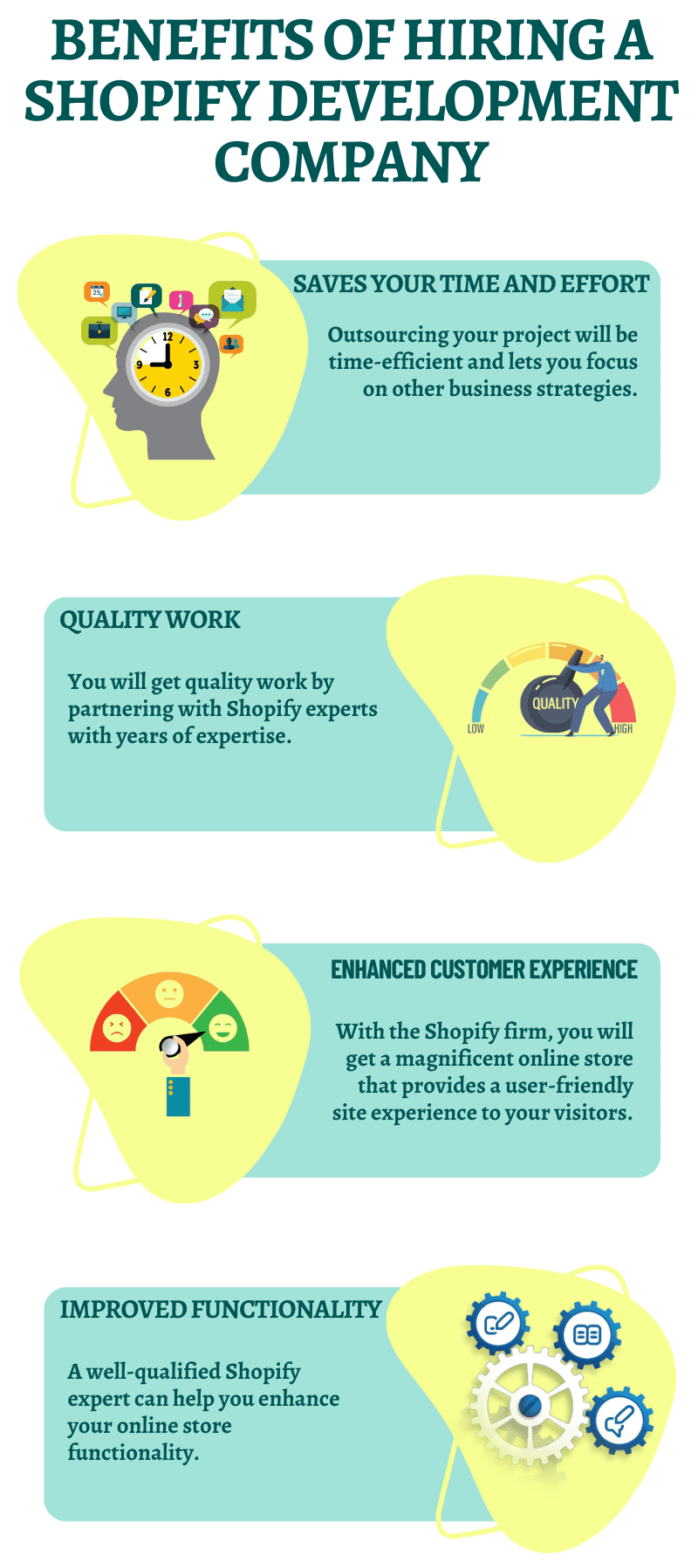 Benefits of Hiring a Shopify Development Company
The demand for Shopify agencies has increased with the increasing use of the eCommerce sites. There are multiple reasons to hire a Shopify development agency. Some of the primary reasons are – 
It Saves Your Time and Effort 
Outsourcing your website development to a Shopify web development company will save your time to a great extent. For instance, rather than spending time configuring the development process, you can devote your precious time to other business activities like inventory management and conceptualizing marketing strategies to grow your business.
Therefore, it is time-saving to hire a Shopify agency to build an online store as they have the experts to start all activities.
Quality Work
A Shopify web development company will be more focused on providing you the quality outcomes. By partnering with the best Shopify experts, you will get the quality work that helps your brand stand out. With expertise, their professionals will ensure that the team will deliver the best results to their clients.
Enhanced Customer Experience
Shopify experts can transform your business plans and ideas into workable solutions to give a better site experience to your visitors. 
With years of experience and tried and tested methods, they use the best techniques and customer-oriented strategies to provide you with a magnificent web solution for your business. It will provide a user-friendly site experience to your customers and make a reputable name for your brand in the market.
Improved Functionality
With a team of well-qualified Shopify experts, you can enhance your store's functionality and take your business to new heights of success. They can help you add more functionalities and make your website feature-rich to stand out in the crowd.
Things to Consider Before Hiring a Shopify Development Company for Your Project
Understand Your Project Requirements
Before reaching out to the Shopify development partner, you should make an expectations list, document them, and write a brief about your requirements. 
It will make the company aware of the project's requirements and expectations. So they can help you achieve your target goals with the project.
Consider Your Budget
Once you get aware of the features and functionalities you want in your project, the next step is to finalize the budget range or the budget you can afford. Knowing how much money you can afford will let you get an excellent online store in a budget-friendly manner.
Check Their Portfolio and Testimonials
Before finalizing a company for your project, check their portfolio and explore the set of sites it includes. Check the features, functionalities, load speed, and accessibility of the websites they have delivered. It will provide you with a better vision of their outcomes. 
While exploring, note down the things that impressed or disappointed you, so you can discuss them while discussing your project with the company. 
In addition to the above, check whether the firm has a good number of testimonials and client reviews on its site. It will give you a better depiction of how satisfied their clients are with their services.
Ensure an Effective Communication Medium 
Effective communication plays a vital role in the smooth development of the business. 
After all, as a business owner, you have to be updated on the project's success and the number of milestones to be achieved. Therefore, it is essential that you can easily contact their developers to have the information about the project happenings. 
Moreover, it is also vital to consider their business hours and their availability if they are from a different time zone. You should ask about the concerned person for your queries. It will help you better understand the Shopify web development company you will partner with for your project.
Post-Development Support
Even if a website is successfully launched, some problems may occur. In that case, you need support from your Shopify development service provider. 
Since the developer understands and knows about the working of the client's website, the client wants them to be available for maintenance and support after completion. Therefore, look for a company offering you post-development support even after the project delivery.
How Much Does it Cost to Hire a Shopify Expert?
Before you finalize a Shopify development company for your project, you should first be familiar with the cost of developing a website. The cost will vary on your needs and the project complexities. The more functionality you want to have in your business website, the more cost you will have to pay for that. 
One of the significant factors that affect the hiring cost is the expert's experience. If they have also previously worked on the few big Shopify stores, the charges will be higher compared to the relatively lower experience.
Apart from that, geographical location and the project's deadline are some other aspects that majorly affect your website development cost.
There is no perfect estimate of the cost of taking Shopify web development services for your project. For convenience, a general breakdown of the cost as per the project level is–for small projects, it will be anywhere between $3000 – $5000; for medium-sized projects, it will be more than or equal to $10,000, and for complex projects, the price range is anywhere from $10,000 to $100,000.
Conclusion
Shopify is gaining a lot of influence. Thus, it is the right time to invest in a Shopify website. The selection of a suitable Shopify development company can make a significant difference in the development of your online store. 
Thus, reach out to a reputed development partner with relevant expertise to build a user-friendly online store for your business. There is a myriad of service providers out there; you can consider the tips shared in the article for a better selection. 
So, choose wisely and get the online store of your dreams.