Posted by HTMLPanda
According to today's trends, it has become imperative for all the organizations to establish their presence in growing mobile space. Many renowned brands have effectively addressed mobile consumers. And, their huge part of revenue is coming through mobile based audience. But still, most of the companies, who have decided to follow mobile-centric initiative are in the state of dilemma whether they should launch a mobile application (native app) or go for mobile website app.
Undoubtedly, both mobile app and mobile website help the business enhance lead generation & sales, expand reach to different audience and build a healthy relationship with the customer. But, they are far different in terms of various features.
Features of Mobile Website & Mobile Application
What features set them apart from each other? Let's have a glimpse below and find out the imperative information related to these mobile approaches.
Mobile Website: Abridgment
A website that is enabled to be accessible through mobile browsers is termed as a mobile website. This kind of website delivers better performance and impacable user-experience on smartphone as compared to other sites. The faster response, readable & interactive content, and engaging functionality are the likely features of the mobile web app. The prime feature is, it can be accessible through multifarious devices. Additionally, the mobile based website can be accessed through the search engine.
Mobile Application: Abridgment
A mobile app is a native software application, which is designed for a specific platform. Hence, it runs on one type of operating system. The major aspect of this kind of app is, it can offer high-end graphic, superb performance that mobile web app cannot give and at last, it empowers the users to access different features, like notification, GPS and many other. The mobile apps are generally available in the app store.
How to Make Best Choice Between Mobile Website and App?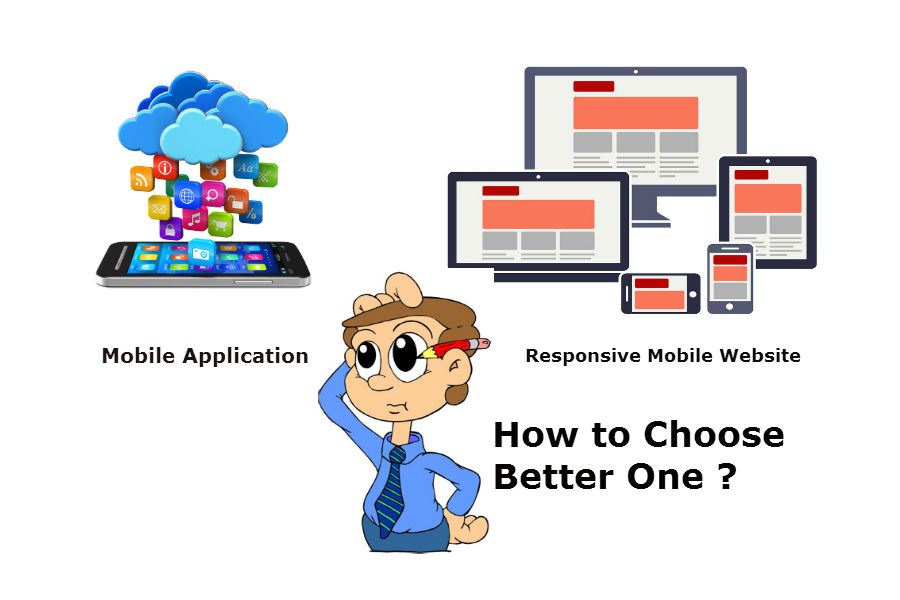 These differences in the features govern strategies related to marketing, deployment, development, converting leads & audience engagement; that's what all the business owners should consider because everyone follows different strategies and workflows to propel the business. Have a glimpse below to know more:
Business Goal
Identify your business goal that you want to achieve through mobile initiative. Knowing the business goal will help you identify the key aspect for making selection between mobile website and mobile application. Here, you can also take various things into consideration such as budget and time.
User Engagement
How do you want your customers interact with your business? This is the most imperative thing that the business owners should consider when they are having confusion. The mobile application has a great scope in providing high-end user-experience with the help of advanced functionality. On the other hand, the mobile website can only deliver the content, a set of simple functions, and information that resides on server. Hence, try to scrutinize what seems better for you to engage your customers with your business.
Visibility
Through search engine optimization, you can enhance the visibility of your web app in the online marketplace. Secondly, the mobile web app can be accessed through all the devices, regardless to their platforms.
In case of native app, you have to optimize its visibility in the app stores. Also, you can attach a link to the website that can redirect the users to the mobile application. Additionally, if you want to extend your application to reach to different customers, then you have to invest in the development of same app for different platforms.
Think About Audience
Generally, people download only those apps that come into use regularly or we can say that are connected with their lifestyle. For example, most of the people prefer installing Facebook rather than using mobile version of Facebook website.
Moreover, according to the study, it has been found that the people (who install an app) like to use that app for longer period as compared to the mobile website. If you believe that your strategy can build such kind of application, then it is good to consider because this will be helpful in improving the engagement.
Marketing Approach
Through mobile application, it is easy to process promotion and other marketing activities with the help of push notification. That means, you can do direct marketing and tell your customer about new products launched, discount offers, and many more. In case of mobile website, you have to take the help of PPC ads to entice the mobile user to redirect them to the landing page that is very challenging.
Maintenance Support
Maintaining and updating the mobile website is very similar to the process of maintaining a mainstream website. On the other hand, in case of mobile application, everyone has to go through the process of recoding and resubmission of app. Moreover, it demands lots of resources and time.
Offline Connectivity
The native application can work even if the internet is down, but the mobile website can only work, when internet is available. Hence, with the help of mobile app, you can access different resources and store data seamlessly.
Budget
Budget is the most important thing that is generally considered by the small & mid sized organizations. The development of a mobile app for different operating systems will cost more than developing a single mobile website. The mobile website can be accessible through multifarious platforms easily.
It is generally considered that if an organization has small budget and they don't want to offer high-end functionality, then they should give preference to deploying mobile website rather than mobile app without having second thoughts.
Closing Thought
Hopefully, now it is easy for you to make the best choice between the mobile website and mobile application. Want to share your view, experience or doubt, you can write to us via comment section given. We are waiting to hear from your end.