What's the best eCommerce platform for you? Is it Shopify or Magento? Selecting the best eCommerce platform between Shopify vs Magento is challenging but of critical importance. This post compares Magento and Shopify and helps you decide which one can help you scale your eCommerce business.
Whether you're a startup that wants to grow faster or a large enterprise looking for diversification, you want and need the right eCommerce platform to give your online store a new height. As you research options for eCommerce website development, some big names will pop up. However, let's admit that none are as popular as Magento and Shopify. 
Shopify has a pretty firm grip in the "hosted", "all-in-one" eCommerce solutions, while Magento is the biggest player when it comes to developing larger and more complex eCommerce sites. Therefore, it majorly depends on your project requirements whether to invest in Shopify development services or in Magento development services.
Shopify vs Magento is a common battle. Both are significant players; however, their models, pricing, and programming languages differ. 
With no further delay, we will compare these two major players in the game. It will help you make the important decision of which one is the right option for your eCommerce business and why. Ready? 
Let's get started with Shopify.
Shopify
Shopify is powering over 1 million businesses worldwide. It is an all-in-one eCommerce development platform that offers numerous features to start, build, run, manage, and grow your online store. Shopify website development embraces businesses of all sizes to set up an online store and sell their products hassle-free. Whether you sell online, on social media, or in the store, Shopify has your back.
Is Shopify a Right Choice for You?
You cannot choose a platform just because it is widely popular. In Magneto vs Shopify, there is much more than that. Moreover, it cannot be a major distinguishing factor between both platforms.
Let's be more familiar with the Shopify eCommerce platform by understanding some of its benefits and limitations.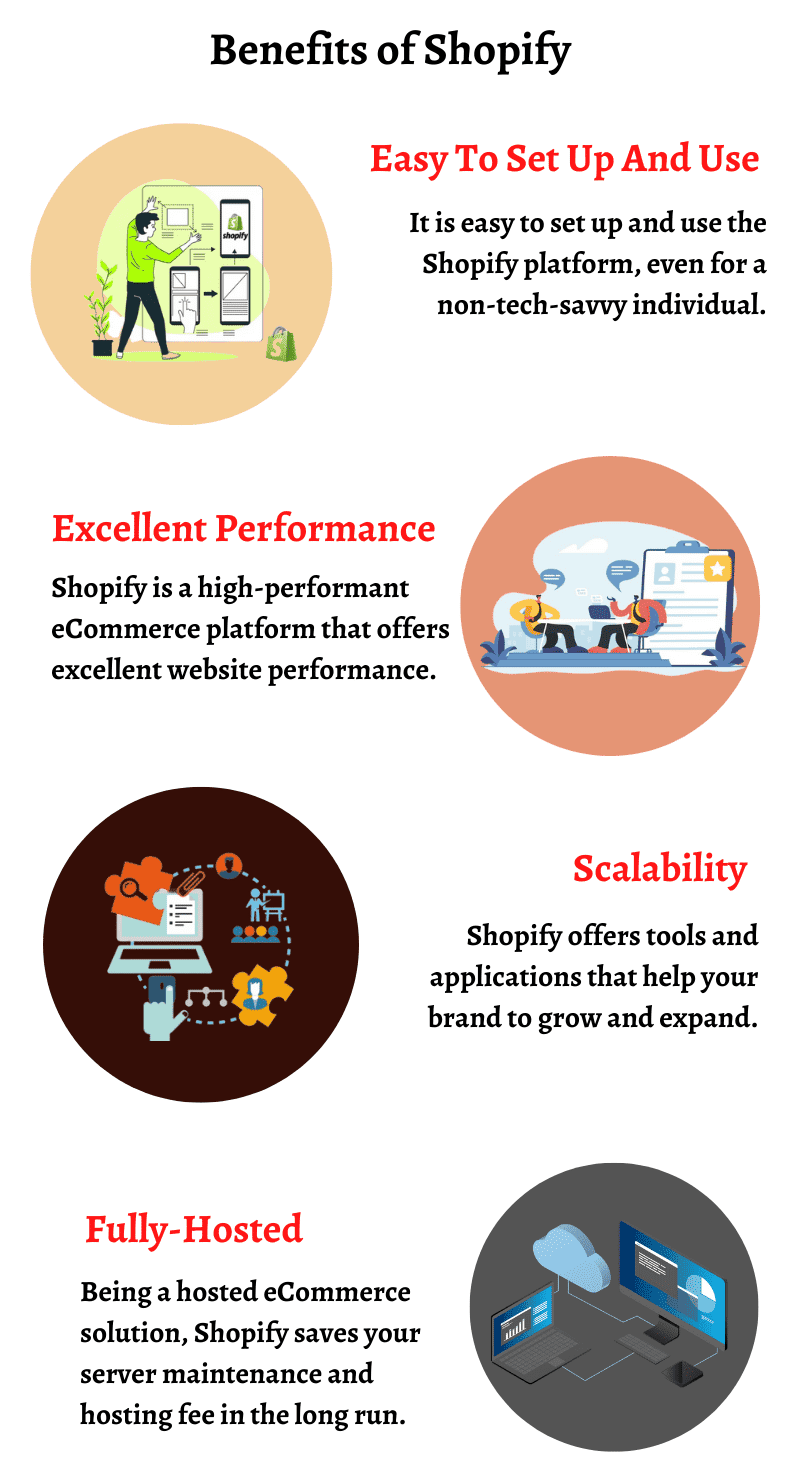 Pros of Shopify Development
Easy to Set up and Use –

One of the common praises of Shopify is how simple it is to set up and use. Coming with the dr-and-drop option, it's a great platform for someone who is not tech-savvy.

Excellent Performance

– eCommerce sites need to be fast and highly responsive. Shopify offers excellent site performance that keeps your customers intact and helps you increase sales and ROI.

Easily Customizable

– eCommerce sites need customization every now and then. Shopify's customizable website builder is a huge help here. You can edit, add, and move around content as per your requirement.

Scalable

– Like any eCommerce business, if you are looking to grow and expand, Shopify is your way to go. It brings you tools and apps that help in your brand's expansion.

Fully Hosted

– Shopify is a fully hosted platform, which means you don't have to pay extra money for server maintenance or server-hosting fee.

Several Theme Options

– Having an aesthetically pleasing online store is incredibly crucial. Shopify ensures to give a sleeker, cleaner, and neater look to your eCommerce store with oodles of theme availability.

Multiple Channels Selling

– Shopify helps you increase your sales by using other potential platforms and supported channels like Facebook, Amazon, Pinterest, and apps. You can also sell in person at brick-and-mortar shops.

SEO-Packed

– Shopify has a ton of SEO additions and marketing tools to its platform. The more people reach your store, the better success you'll have in terms of online presence and revenue.
If you are still in a dilemma about whether Shopify is the right choice for your eCommerce website development or not, you can read our blog post –Is Shopify the Right Choice for Your eCommerce Store Development?
Cons of Shopify Development
Customization Limitations

– No doubt that the platform is highly customizable, but it also has some limitations. For example, themes need to be customized using their own PHP language.

Higher Price

– In case you are looking for more advanced features of Shopify, like gift cards, fraud analysis, reports, and real-time shipping, you need to pay a higher price.

Need Upgradation

– You might need to upgrade your Shopify plan to increase the functionality of some pre-existing features of Shopify. Not every feature will be working optimally with the starter Shopify plan.
Magento
Magento is a leading and immersive eCommerce platform, widely used by various sectors, including automotive, fashion, department stores, home & DIY, sports, and more. The Magento development companies worldwide are empowering thousands of retailers and brands to innovate and grow rapidly.
Is Magento a Right Choice for You?
Let's put the spotlight on the benefits and limitations of Magento. It will enable you to understand whether it is a perfect choice for your online store development or not.
Pros of Magento Development
Flexibility

– It is one of the biggest plus points of Magento. You can modify the source code, customize templates, and incorporate third-party integration as per your requirements.

Feature-Rich

– Magento has a wide range of features that allow you to manage multiple stores and support multiple locations, languages, pricing, and currencies. It will enable you to enjoy many features that other platforms lack.

Large Community

– There is a large community of Magento users because it is one of the most used eCommerce platforms globally. This helps to ensure quick support.

Mobile-Friendly

– Today's generation has gravitated towards mobile shopping. The good news is that Magento is mobile-friendly and allows you to create a mobile site without any difficulty and give the best shopping experience.

Scalable

– Magento can handle the growth of your business with ease. This platform can support up to five hundred thousand products and thousands of transactions in an hour, helping you thrive.
Therefore, with Magento eCommerce website development, you can get a feature-rich, responsive, flexible, and scalable online store. It will help you provide a seamless experience to your site visitors.
Cons of Magento Development
Expensive

– Magento's basic version is free of cost; however, the premium enterprise version of Magento, targeted at large businesses, costs you more than fifty thousand dollars approximately for a year.

Few Developers

– Certainly, Magento has a large community of users and developers, but it is difficult to find authentic Magento developers. The main reason is the complex understanding. One needs a lot of time to master it perfectly.

Time-Consuming

– Magento has a slow loading time; hence, customizations are quite difficult to make and take a lot of time compared to other eCommerce platforms.

Hosting

– You need to use a dedicated server to host Magento; other normal hosting types shouldn't be used to host a Magento-based site.
Shopify vs Magento: The Differences
Both are the major eCommerce platforms. So, there is no doubt it will be challenging to choose the perfect one for your website development. 
Which one works best can be majorly determined by your budget, objectives, and level of expertise. Therefore, if you want to choose one, you must think about which of these factors matters most to you.
Based On 
Shopify 
Magento

Cost

Shopify comes with monthly plan options. It is paid to use.

Magento is open-source but includes hidden costs.

Performance

Shopify is a hosted solution, so you need not worry about the speed and loading time of your online store.

For high performance, you will have to pay for reliable hosting services.

Ease of Use

Shopify is easy to set up and use, even for non-tech individuals.

Magento is complex to understand for beginners.

Availability of Themes

It has a lot more theme options available. 

Magento does not offer plenty of official themes.

Flexibility

Less Flexible

More Flexible

Payment Processors

Shopify offers its own payment gateway, i.e., Shopify Payments, with no transaction fees. 

It also lets you choose from 100+ payment gateways, but you have to pay transaction fees.

On the other hand, Magento offers 150+ payment gateways with no transaction fees.

Integration Capabilities

Shopify is user-friendly and lets you easily integrate third-party services to expand your store.

It lacks behind Shopify in terms of integrating third-party services. This is because you will require technical assistance for the same.
Now, let's see a detailed comparison of Magento vs Shopify.
Cost
It is a major factor that every business owner considers. You might be thinking that, between Shopify and Magento: which one is cost-friendly? 
Shopify Pricing
Let's start the discussion with Shopify. Shopify offers three pricing plans, ranging from the basic Shopify ($29 per month), Shopify (at $79 per month), and advance Shopify ($299 per month). Each different plan brings its unique features and functionalities. 
Additionally, it also lets users try a 14-day free trial. It facilitates them to subscribe to a package as per their needs once they get satisfied with the platform. Apart from that, Shopify offers a lot of affordable themes and templates. It only charges $180 for a website template in the market. 
Magento Pricing
On the other hand, Magento does not require any monthly subscription fees. You can download, install, and set up it without bearing any cost. Moreover, with Magento, you will be required to pay for a domain and hosting provider to launch your site. Read this to know How Much Does It Cost to Build a Magento 2 Website?
Availability of Themes
Another thing that business owners consider after budgeting is how their platform will look like. It creates the first impression of the customers of your online store. Having access to a compelling theme lets you offer the best user experience to your site visitors. Moreover, it enables your online store to stand out from the crowd.
So, in Magento vs Shopify, let's see which one offers plenty of themes in a budget-friendly manner.
Shopify Themes
Shopify offers a wide variety of themes, including free and premium options. But it might be costlier for some online store owners, as they are available in the range of $150 – $350. In addition, all the themes are mobile-responsive.
Therefore, whatever theme you will choose, it will look perfect on smartphones as well. After selecting the desired theme, you can customize it by moving and resizing elements.
Though there are free themes available, you will also have to pay for the majority of options from Shopify. It will be slightly costlier for you.
Magento Themes
Magento offers responsive themes that can charge you up to $499. There is the possibility to customize themes for different customers. Thus, it allows you to create a unique brand experience with your online store.
Magento lets you create your theme from scratch, but you will have to be more tech-savvy for the same. Otherwise, you should have enough budget to hire a Magento development company to create a theme as per your requirements. 
Ease of Use
Shopify Ease of Use
Shopify is an easy-to-use eCommerce platform. Both tech-savvy and people with slightly technical knowledge can use Shopify to build their online stores. Moreover, you can also leverage Shopify website development services to save time and effort in your online store development. 
Magento Ease of Use
Magento is not as user-friendly as Shopify, especially for non-tech people. Therefore, to develop or customize your website with Magento, you will have to be tech-savvy or hire a Magento website development company to serve your purpose.
Performance Comparison
Users generally prefer fast-loading websites. It majorly impacts conversion rates. Therefore, no doubt, you will indeed have to choose a platform that can help you build a high-performant online store.
Let's see, between Shopify and Magento, which one is best in performance aspects.
Shopify Performance
Shopify comes with reliable and stable website performance. It is a hosted eCommerce website development platform that provides an all-in-one service to build your online business. 
Magento Performance
On the other hand, in the case of Magento, the website speed depends on the hosting service you select. Therefore, if you select a good hosting that comes with proper website optimization, you don't have to worry about the website's speed.
Payment Processors
With both Magento and Shopify, you can easily connect your online store to a payment processor in just a few clicks. Though we are looking for a detailed Magento vs Shopify comparison, let's discuss them separately.
Shopify
With supporting 100+ payment gateways, Shopify also has its own, i.e., Shopify payments. It charges zero transaction fees. You can even integrate stripe in your payment gateways that will make all your payments quicker, and safer.
Magento
Unlike Shopify, Magento does not come with its own payment processor. Therefore, you will have to download a payment extension from the Magento marketplace. Moreover, it supports 150+ payment gateways, most of which are for large enterprises. 
If you want to integrate payment processors like Stripe, Square, etc., you will have to install them from the marketplace. 
In the end, we can say that Shopify provides an easier and quicker way to implement a payment processor on your site. On the other hand, Magento provides you with more options to sell globally.
Integration Capabilities
Let's see in Magento vs Shopify, which one offers easier integration to expand your online store.
Shopify Integration Capabilities
Shopify lets you easily integrate third-party services to expand your store. So, if we talk about the integration capability, Shopify is the winner. You can integrate plugins and extensions to your Shopify store to provide a seamless experience to your site visitors.
Magento Integration Capabilities
With Magento, most of the integration requires manual installation. Therefore, you either have to be tech-savvy or have to leverage custom Magento development services for the same.
Final Thoughts
You can't pick one and apply "one-size-fits-all" logic when it comes to choosing eCommerce platforms. Likewise, you can't choose between Magento vs Shopify, keeping your eCommerce business needs aside. 
You need to pick out either of these two platforms and move forward according to your business type, size, needs, and preferences. Both of them can deliver a perfect experience to you at the end of the day, depending on your requirements.