It's been almost nineteen years since the release of WordPress, and it is still a well-known content management system (CMS). Undoubtedly, WordPress is the preferred choice of almost every business owner.
Even a study by W3Techs has declared that 65.3% of all websites use WordPress, and that said, WP must have some really great advantages that grab the attention of numerous business owners. Right?
With custom WordPress, you can create an engaging website for your business as it is integrated with multiple themes, templates, plugins, and more. So, get ready to develop your WordPress site from scratch from a reputable custom WordPress development company and enjoy its benefits in the long run.
In this blog, we have mentioned the top 5 advantages of custom WordPress development services that you can look at. But, before moving further, let's look at the importance of WordPress.
Why Should You Choose WordPress for Your Website?
WordPress is a well-known content management system (CMS) with easy customization options. WP is spread over a wide area covering business sites, personal sites, blogging, eCommerce stores, etc. Plus, this CMS has numerous theme and plugin options, is easy to update, comes with higher security, and more.
Apart from this, WordPress has hassle-free hosting and is deemed the most powerful content management system that provides exponential growth to businesses. WordPress will indeed stay in the long run as it is supported by robust technologies like PHP, JavaScript, and SQL, making it a reliable platform.
5 Reasons Why Custom WordPress Development is Better for Your Business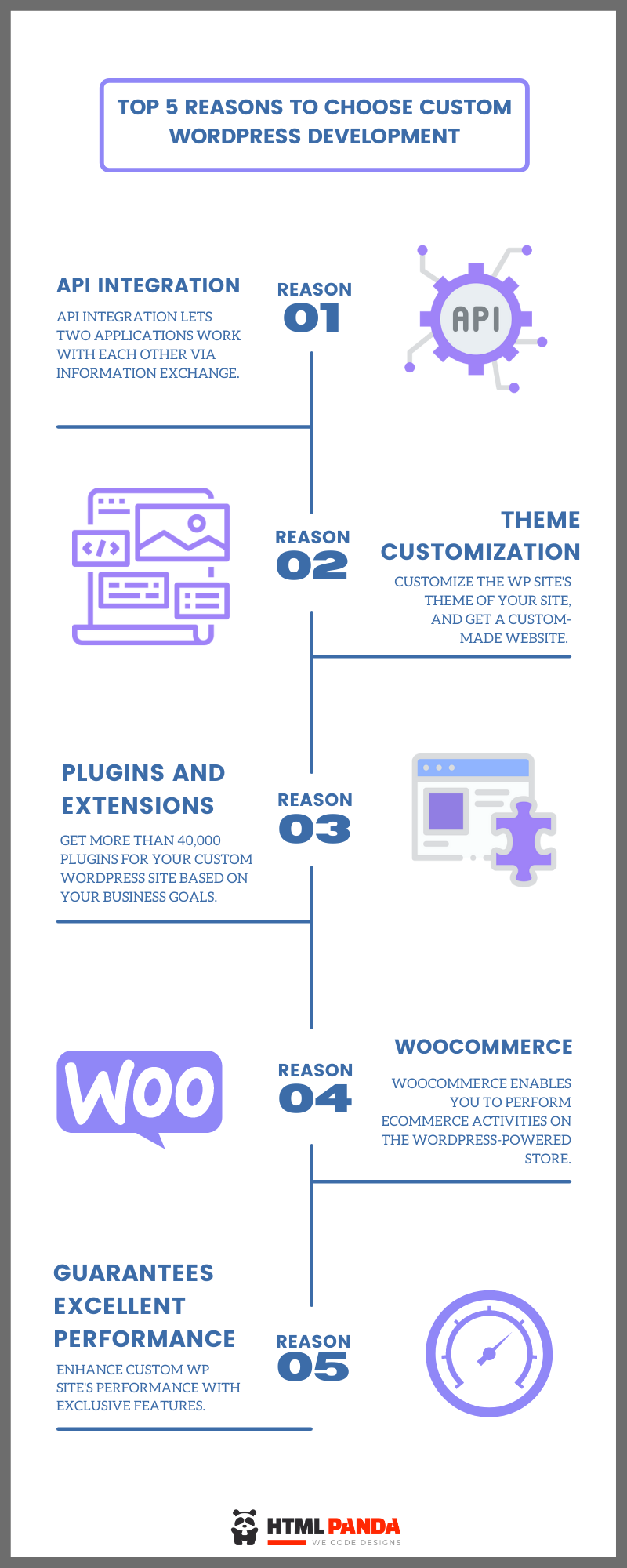 API Integration
One of the primary reasons for choosing custom WordPress for your business is an API (aka Application Programming Interface) integration. It is a code where two applications work with each other via data exchange.
There are different kinds of APIs (like Representational State Transfer (REST)), where two applications exchange information following a specific set of rules. In other words, WP Rest API allows the WordPress website to connect with outer applications.
Theme Customization
If you've developed a custom WordPress-based website, you can customize anything on your site, for instance, the title or a tagline. You can also determine the look and feel of your website according to your business requirements by tweaking the layout design, color scheme, or widgets.
Moreover, custom WP has a plethora of themes (both paid and free) that match your business's goals and vision. Having said that, it will give your site a unique look with a competitive edge.
Plugins Extensions
The custom WordPress has excessive plugins and extensions that support modules and frameworks from the library. To be precise, WP has more than 40,000 plugins that let developers customize the site based on business requirements or goals and add extra features even without selecting a line of code (LOC).
With the help of plugins, you can add contact forms, increase website speed, enhance SEO, provide different email opt-ins, etc. Custom WP updates its plugins in order to meet the latest technology running in the industry and ensures excellent website designing compatibility.
WooCommerce: Customizable eCommerce Platform
WooCommerce is one of the well-known WordPress plugins, and the best feature of this plugin is that- you can modify the code and content to fit your business requirements. Other than this, WooCommerce is a flexible plugin that designs and manages the online store smoothly integrated with features like inventory and tax management.
WooCommerce follows some of the best practices to revamp or modify the website by changing the link color or even customizing the theme from the default look. It has two ways for customizing the site, and those are- plugin and child theme. The plugin does minor tweaks to the stylesheet or CSS, whereas the child theme performs major alterations in the CSS or stylesheet that maintains the modifications against upcoming updates.
Guarantees Excellent Performance
The custom WordPress has selected themes or templates that you can use to meet your business requirements or goals. In other words, custom WordPress will only have your business-related features that will enhance the user experience (UX).
You can even add automatic filters, unique texting styles, or standardized formatting for a better user experience. In addition to this, you can be sure about your code testing that will eliminate the risk of unnecessary errors (or bugs) from your site and run faster than expected.
Final Thoughts
Remember that your website is the first medium of making your targeted audience familiar with your offered products (or services). So, make it count by designing an aesthetically-pleasing website that showcases everything about your brand in the best possible way.
Developing a custom WP site from scratch is quite an intimidating task. Thus, you can contact a WordPress development company to avail the best custom WordPress development services and get a highly secure and reliable website.
We hope this blog added value to you and benefitted you in various ways.