The expansion of the eCommerce business is gaining the attention of entrepreneurs. Therefore, more and more businesses are considering eCommerce development services for an online presence.
There is a large pool of companies in the market that you can find for eCommerce development, making it difficult for you to choose the best one. Also, the process becomes cumbersome, especially when it comes to selecting one for your eCommerce development project.
If you want to create a thriving eCommerce store for your business, selecting the right tech partner is inevitable to attain your goals. And there are many factors that you need to consider before choosing an eCommerce web development company for a good deal. 
This blog post will shed light on those factors to help you find a reliable tech partner for your eCommerce development project. Keep reading to know these factors and select an appropriate eCommerce web development company for your project.
Significance of an eCommerce Website For Your Business
With an eCommerce website, you can sell your products and services more conveniently and quickly. Indeed, the website allows your customers to buy products they want as per their comfort in just a few clicks. It provides you a limitless opportunity to reach and serve new markets and make your foothold in global markets as well.
Moreover, a large number of individuals prefer online shopping as it is the most suitable choice. So, you can develop an eCommerce store with professional eCommerce development services for your business that can provide innumerable benefits and take your retail business to new heights.
Advantages of Choosing eCommerce Website Development Company
Some of the benefits of hiring a reliable eCommerce website development company are discussed as follows –
Quality work
With a competent eCommerce development company, you will get the quality results that you are looking for. They can offer competent results to you since they know the rules and tactics to work in an aggressive market.
Saves Your Time and Effort
Outsourcing your eCommerce project to an eCommerce website development company will benefit you in the long run. They can create an attractive eCommerce website for you and fulfill your business needs in a limited timeframe.
On-Time Delivery
A good eCommerce website company has professional developers with excellent experience who can dedicatedly work on your project and deliver on time. They believe in establishing long-term and strong relations with their clients by making the solution as per their expectations.
Create an Unmatched eCommerce Website
If you opt for an eCommerce website development company to create your website, you will get an eye-catching business website, ensuring the best features and functionalities to make your site stand out.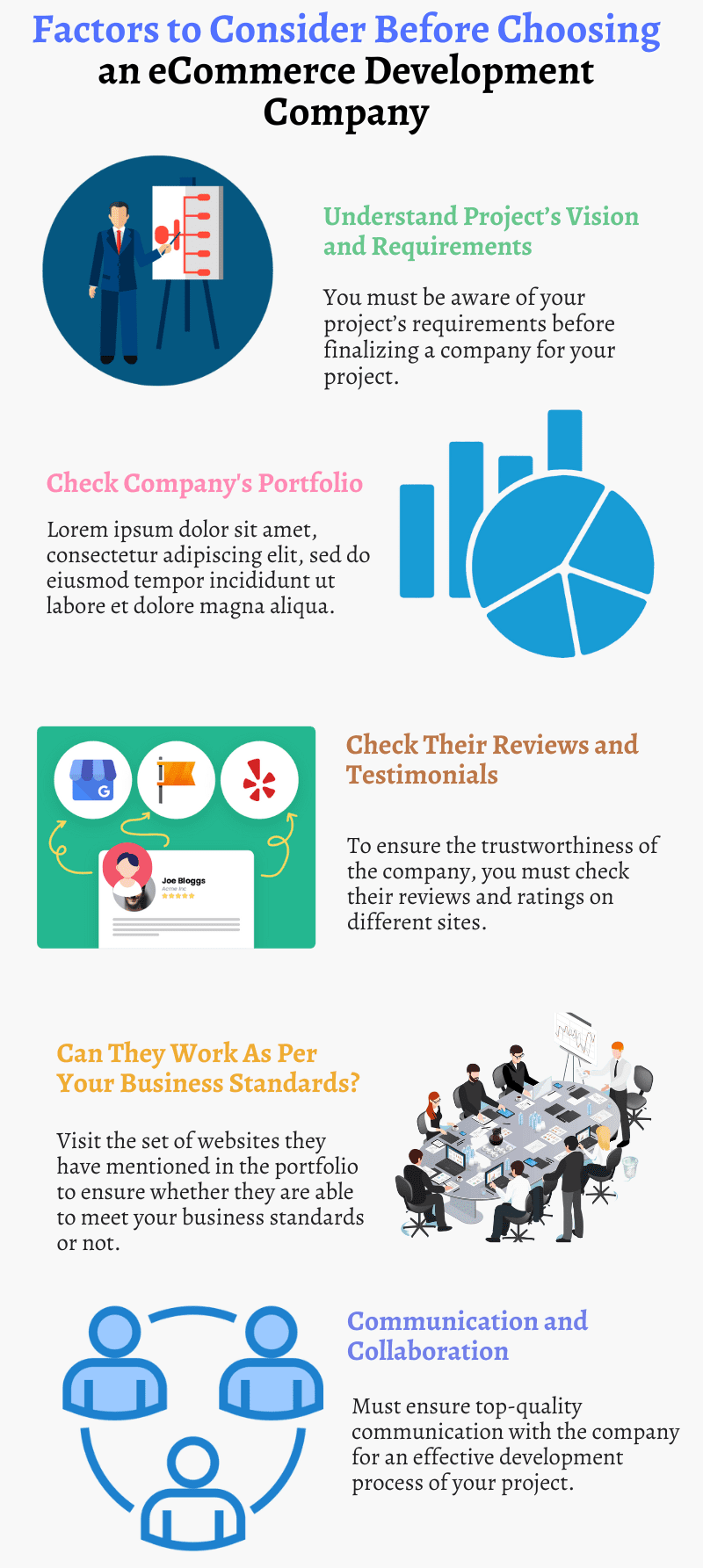 Factors You Should Consider to Choose an eCommerce Website Development Company
Let's start unfolding the major factors that you must consider before finalizing an eCommerce development company for your business.
Determine Your Project Vision and Requirements
Before saying 'yes' to a company for your project, you must be aware of your project vision and requirements. Once you understand your needs clearly and accurately, explain them to the professionals of the development partner you are trying to finalize for your eCommerce project.
Apart from that, you must also have a project vision document to let them create a plan of action and help them understand your needs and vision.
Check Company's Portfolio
Exploring the company's portfolio should be on the top of your list. It will enhance your vision to understand the previous work of the company and the quality of the services they are offering. You must also inspect their work samples that have been mentioned in the portfolio to get better details on the projects they have finished earlier.
Moreover, for a good decision, you must also check the red flags given below in their portfolio –
If there is some information about the company like experience, rewards, client testimonials, statistics, etc that is missing on their site.
If they have not mentioned their previous work details.
If some case studies on their site are inaccessible.
Check Their Reviews and Testimonials
While opting for an eCommerce agency, reviews help you a lot. If you are impressed with the company's location and portfolio, make sure to check the company's reviews if you are thinking of taking their services. It is indeed a better way to ensure the trustworthiness of the company. 
To get the client's experience, you can visit their testimonial section and try to contact their clients for direct feedback about deadlines, availability, project management, etc.
Moreover, check the ratings on various websites such as Goodfirms, Clutch, etc., to get a better idea of the portfolio they have presented.
Can They Work As Per Your Business Standards?
Every business owner has some set of standards that are required to be followed in their eCommerce website. To ensure whether the company you are finalizing for your project is able to meet your business standards or not, you have to visit the websites they have mentioned in their portfolio.
If you are satisfied with the outcomes, it will be better to consider their services for your eCommerce store development.
Compliance With Coding Standards
To improve the code's maintainability and readability, it is vital to follow the coding standards. They are the set of rules and techniques that must be followed for an efficient, readable, and clear code. So, you must ensure that the eCommerce company you are finalizing follows the coding standards, including W3C validation. It will provide you with an error-free solution.
Communication and Collaboration
For an effective process, you must validate the medium of communication of your technology partner. Poor communication could be a doorstep of your project's failure, so you must ensure top-quality communication with the agency. What if a meeting with them does not go as scheduled? It'll surely affect your project's progress. So, check whether they offer an alternate communication channel for a quick chat like Google hangout or Skype.
If the company is from a different time zone, ask about their business hours and their availability for the project. Apart from that, it is also essential to ask about the concerned person whom you can contact for your concerns.
Timeframe
No one wants to wait for a year or more to complete their project. A professional company has many experienced professionals that can complete your project as quickly as possible with reliable quality.
You must ensure that the company can deliver quality work in a stipulated timeframe. The company's experience in the domain can benefit you in this regard as more experience means that the company has faced more challenges enhancing their skills to solve a problem. They can utilize their earned knowledge and skills to accomplish your project without wasting time. 
Post-Development Support
After launching your website, it is essential to allocate time for fixes that occur after the release. The post-development support adds value to the process by offering timely fixes, monitoring the implementation, and addressing possible shortcomings.
After the successful release, a website still requires continuous support and maintenance to stay up to date. It requires a support system if anything goes wrong with it.
So, if your eCommerce development service partner is offering you post-development support, you can rely on them for your eCommerce website development. Having a single vendor offering all such services will be a boon for your business to reduce the operational hassles. 
Conclusion
Now, we have at the end of the post. You must have checked all the things that you should consider while finalizing an eCommerce company. 
We hope the information shared in the blog post will be helpful to you in finding a suitable eCommerce development company that can handle all aspects of your eCommerce website development.