If we talk about full-stack professionals, they can execute agile projects with proficiency by investing their years of experience to get the best outcomes. They are the ones having expertise in each and every aspect of development, whether it is front-end, back-end, various operating systems, or other details of the technology.
Want to know more about full-stack web development? Then, you are at the right place.
This blog post will discuss full-stack web development, its benefits, and the technologies used in full-stack web development.
What is Full Stack Web Development?
The term 'full-stack' mainly refers to a combination of everything required for developing, testing, and deploying a web application. Full-stack web development means the development of both the front-end and back-end of web applications. Apart from that, it also includes handling databases and debugging the websites.
The demand for full-stack web developers increases as organizations and businesses move towards continuous innovation.
Full Stack Web Development Technologies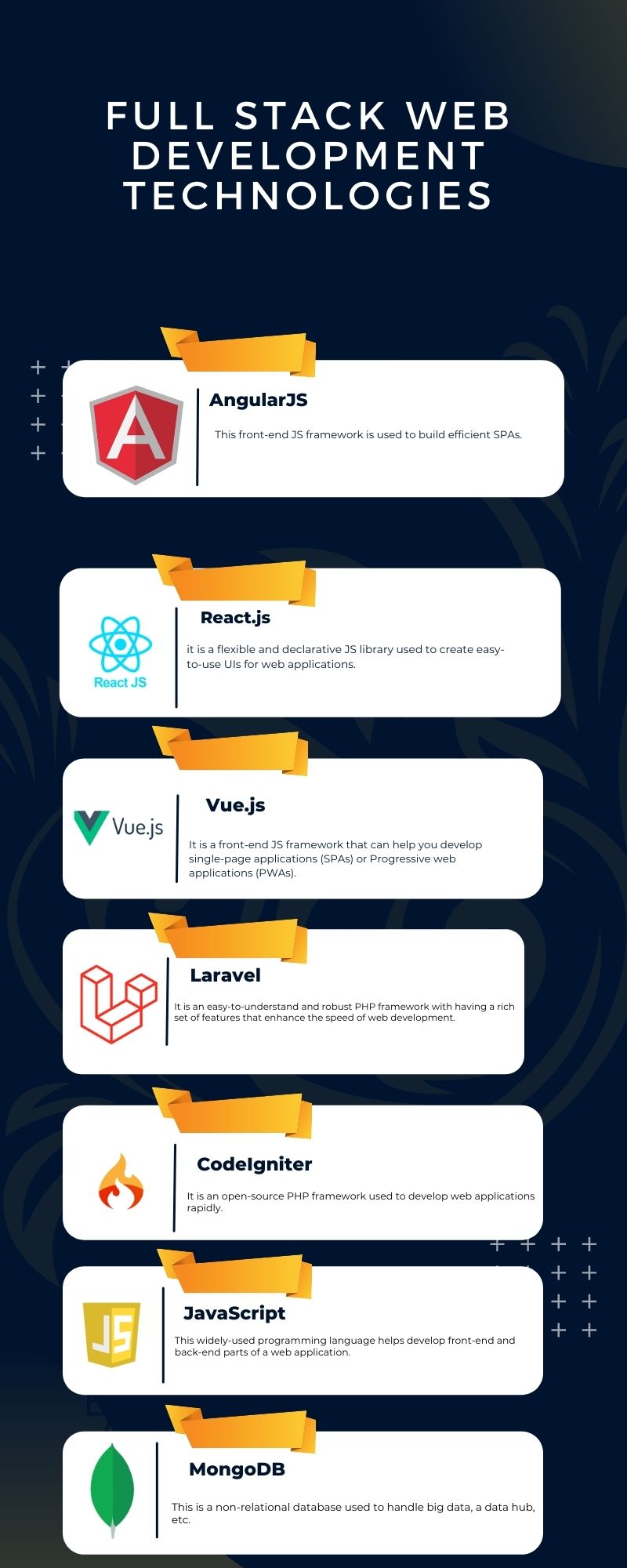 Now, let's see various full-stack web development technologies.
Front-End Frameworks
The front-end is the website's visible part responsible for the website's user experience. It is the portion by which the user can directly interact with the website. The frameworks used to develop the front-end portion of a website are discussed as follows –
AngularJS is a JS front-end framework used to create single-page web applications (SPAs). It is a growing framework that provides better solutions to develop web applications. This JS framework can be specifically used to change static HTML to dynamic HTML.
React.js is a flexible, efficient, and declarative JS library to create UIs. It is an open-source and component-based front-end library responsible for the application's view layer. With React.js, it is also possible to develop single-page applications.
This fully component-based JS library can be helpful to build encapsulated components that manage their own state then compose them for making complex user interfaces.
Vue.js is an open-source, front-end JS framework for developing UIs and SPAs. It is easy to learn and an ideal choice for smaller-sized projects.
It also offers multiple ways to apply a transition to HTML elements. For transition effect, Vue.js includes a built-in transition component that has to be wrapped around the element.
Back-End Frameworks/Technologies
The back-end part of an application refers to the server-side development of a web application. These frameworks have a primary focus on how an application works. Now, let's discuss the frameworks used for developing the back-end part of the website.
This open-source PHP framework follows the MVC (model-view-controller) design pattern. Laravel is a robust and easy-to-understand PHP framework with a rich set of features that boost web development speed.
Laravel includes features of various PHP frameworks such as Yii, CodeIgniter, etc. It makes your task easier if you are familiar with core PHP and advanced PHP.
It is an open-source application development framework that can be used to develop websites with PHP. Like Laravel, it also has a rich set of functionality that enhances the website development speed.
Using CodeIgniter, creating a website from scratch will save your time. Apart from that, websites built using CodeIgniter are secure and able to prevent various attacks that take place using sites.
PHP lets web developers create dynamic content that interacts with databases. It stands for Hypertext Preprocessor. Basically, it is used to develop web applications.
There are various reasons that make PHP the best choice for web development, such as easier up-gradation, easily obtainable resources, user-friendly, and many more.
JavaScript is the most popular programming language that helps develop front-end and back-end softwares. This interpreted programming language enables dynamic interactivity on websites when applied to HTML documents. It lets its users build modern web applications for direct interaction without reloading the page every time.
There are various JS frameworks that are best for website development, such as Node.js, ReactJS, etc.
Databases
It is a set of inter-related data that supports electronic storage and data manipulation. A database organizes the data in the form of tables, schemas, views, etc.
MongoDB is a powerful NoSQL (or 'non-relational') database that is open-source and document-oriented. It is not based on the table-like relational database structure.
This NoSQL database is generally used for handling big data, a data hub, user data management, etc.
It is an open-source RDBMS (relational database management system). It is based on the SQL (structured query language) that is popular to access and manage the records in the database. Currently, it is the widely used DBMS software for managing the relational database.
Compared to various other databases, MySQL is scalable, fast, and easy to use DBMS.
Benefits of Full Stack Web Development
Now, let's understand the advantages of hiring a full-stack web development company.
Effective troubleshooting depends on two factors: the first one is detecting limitations during development and discovering possible solutions, and the second is post-release maintenance and updates.
Hiring a company will solve two issues at once. Their experts would be aware of both factors and elaborate the algorithms to deal with such kinds of problems.
A company has a team of professionals; therefore, it will be easy to share responsibilities among them. Their professional team can coordinate well so that there will be no room left for inter-team confusion. It will be helpful for the faster delivery of the project.
If we talk about front-end developers, they usually create codes with front-end technologies like HTML, CSS, and JS that control the appearance of a website. In contrast, back-end developers write prototype codes that connect your site to other CMSs. A full-stack developer performs both tasks with ease and high accuracy.
Hiring a full-stack company means you will have a team of professionals with knowledge and skills in various technologies.
Full-stack professionals can make your project user-friendly as they are up-to-date with the trending technological innovations. These professionals can implement smart features in your project so that you will provide an interactive and responsive website to your clients.
The full-stack web development process will help you maintain the web applications developed under a tight budget. It will be cost-effective to hire full-stack professionals as they can handle all aspects of the job, so you don't need to hire various developers for a single project.
Conclusion
A full-stack developer comes with the knowledge of multiple technologies in the same stack. The demand for full-stack developers is increased as they use various technologies for creating web applications.
We hope that the blog has been helpful for everyone willing to be familiar with full-stack web development.
Stay tuned for more such blogs.