Have you decided to build your business website on the WordPress platform, but the cost has become a concerning factor for you? No worries! This blog covers the essential factors that determine the WordPress web development cost so that you can get a close estimation.
WordPress literally needs no introduction. It's the world's most popular CMS powering more than 43% of all websites on the internet with a market share of over 64.2%. WordPress started as a simple blogging platform, but it has exploded into becoming a full-fledged CMS in recent years.
Big giants, including The New York Times, TechCrunch, Microsoft News, TED Blog, and more, use WordPress. Its popularity, functionality, and unique offerings allure many businesses to opt for WordPress development services.
Though WordPress is an open-source CMS, you will still have to bear some costs to develop a website on WordPress. Having said that, most business owners often wonder how much does it cost to build a WordPress website? And that's why we came up with the idea of creating this blog post.
Before diving deeper into the blog post, it will be good to see an overview of WordPress CMS and its benefits. Despite the cost, it will let you know how choosing WordPress will be beneficial in developing a compelling website.
So without any further ado, let's start with the WordPress introduction.
WordPress – Overview
WordPress is an open-source content management system (CMS). It is a leading platform that is no longer just for developing your personal blog. It can be utilized to develop different types of websites like news sites, eCommerce stores, business websites, etc.
WordPress comes with various features, including plugins, themes, and others. It is based on PHP and MySQL, letting developers build dynamic websites and web applications.
In spite of the fact that you can utilize WordPress to develop large and complex websites, but as a business owner, it will be helpful to rely on a competent WordPress development agency. They are the professional ones saving your time and effort in the long run that you can invest in other business activities.
Why Choose WordPress for Your Business Website Development?
It's no big secret that all the businesses out there are huge fans of WordPress and for good reasons. From starting a simple blog to making a business website and starting an online store, WordPress website development will be the way to go.
WordPress is the world's most popular CMS with a vast community. It is easy to maintain and comes with oodles of themes and plugins. It takes security seriously and helps businesses to scale their website.
Now, let's start exploring why WordPress is the best fit for developing a business website.
Secure and Safe Platform
In our day-to-day life, we often notice website attacks, whether it is a personal blog or commercial site. WordPress is a secure platform that offers top-notch security measures as compared to other platforms. Therefore, you can leverage WordPress website development services to build a trustable and secure online presence for your business.
Scalability
As a business owner, you can not deny the importance of having a scalable website that can handle the future expansion of your business. You will surely require a platform that can match your future business requirements.
WordPress will be the best choice for the same. With WordPress, you don't have to build a new website from scratch with the rising needs of your business.
Mobile-Responsiveness
No one wants to see a disordered user interface when accessing a website. Undoubtedly, it leaves a bad site impression on your site visitors and causes creating trust issues with the website.
Therefore, the need to have a mobile-responsive website is much essential in this digitization world. It is crucial to provide a seamless user experience to your site visitors. WordPress comes with mobile-friendly themes that you can use to develop a platform-independent website. It will facilitate your customers to access the website on the platform of their choice.
SEO-Optimized
A website won't be successful if it doesn't get traffic or an adequate number of visitors.
Another vital advantage of considering WordPress website development is the SEO-friendliness of the platform. When you use WordPress, you do not have to worry about optimizing your site as per SEO perspectives.
It is written with high-quality code with semantic markup, making WordPress sites rank higher in search engines. So, WordPress helps you to present your website ahead of your competitors in search engine results.
Customization Options 
Suppose you have chosen a theme and the similar one has also been chosen by one of your competitors. It will make a slight difference between both of your websites. Therefore, without customizing a theme, it will be complex to stand out your website among others using the same template.
But with Custom WordPress website development, you do not have to worry about creating a unique website for your business. WordPress offers easy-to-customize themes that let you change colors/backgrounds, create beautiful sliders, and customize them as per your needs without much trouble. Moreover, you can also add custom functionalities to your website by using various WordPress plugins.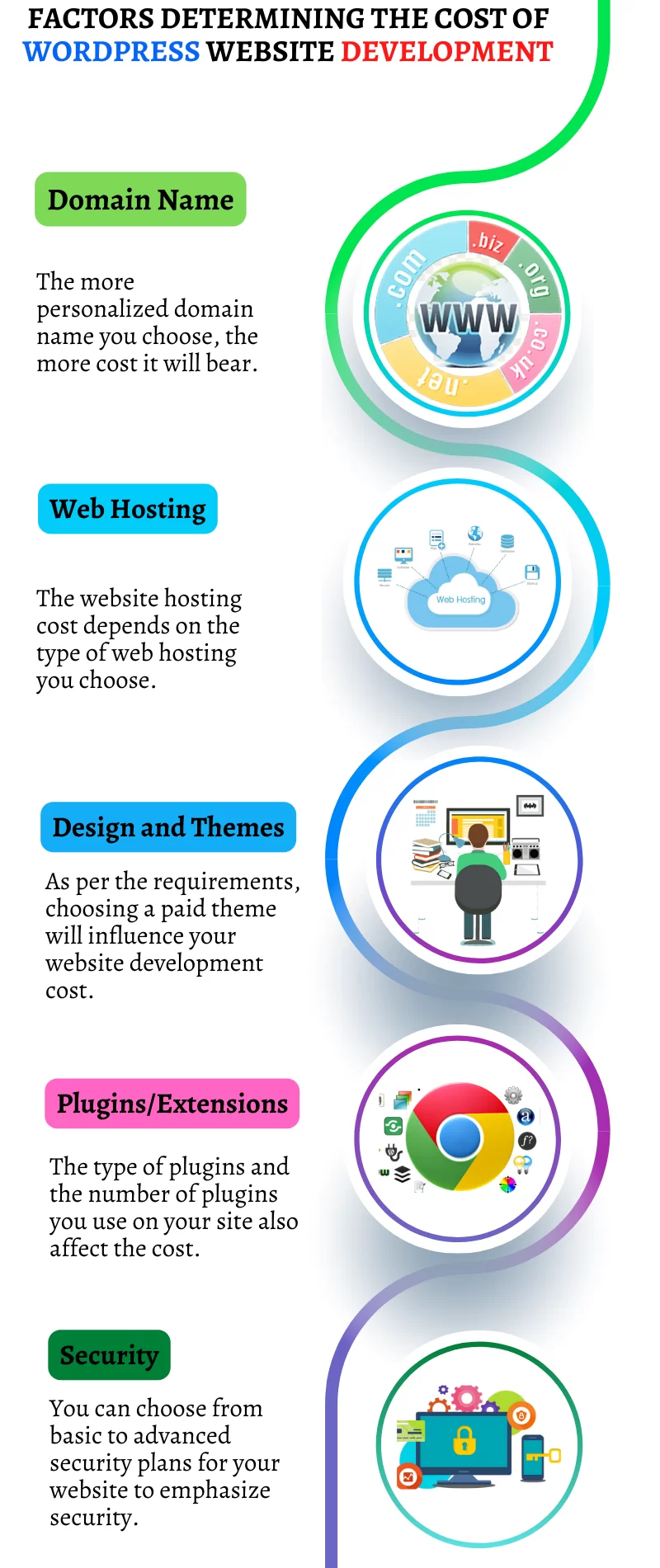 The benefits of WordPress do not stop here. There is much more than that. You should read our blog post on 10 Reasons Why WordPress Is the Best Fit for Your Business to know the power of this content management system (CMS).
Top 7 Factors Determining WordPress Website Development Cost: The Complete Breakdown
You would have understood the benefit of using WordPress to develop websites. Therefore, without any doubt, you will get the best outcome after investing in WordPress development services.
Though WordPress is open-source and free-to-use, you might be wondering where the factor cost is coming from? So, let's shed light on the extra stuff from where the added cost comes in.
Domain Name
When it comes to setting up a WordPress website for your business, the first thing you need is a domain name. This will give your website a recognizable name. So you need to choose it wisely.
It is advised to choose a catchy domain name that is short and concise. So it will be easy for your customers to pronounce and remember. Do not forget that the more personalized it is, the higher the cost it will bear. So, a domain name is one of the factors that affect your WordPress website development cost.
Having said that, purchasing a domain name can cost you somewhere from $10 – $30. But please make sure you don't use the free domain name option. Why? Because in today's time, it appears really unprofessional, and your customers will not take you seriously.
Web Hosting
If you want to create a self-hosted WordPress site, you require reliable web hosting to store your files. Almost all websites today need hosting services to operate without any disruption. Shared and dedicated are two types of hosting services experts highly recommend for WordPress.
With shared hosting, you need to share a server with other businesses as well; however, a dedicated server lets you have a server of your own for your business. Comparatively, shared hosting costs less.
That said, depending on the type of web hosting you choose, it can cost you somewhere from $2400 to around $8,000 or more (per year). So, while estimating your WordPress website development cost, do not forget to include web hosting in your list.
Design and Themes
WordPress is widely popular for its numerous designs and themes. It has many themes for all users. However, there are so many essential things to consider while choosing a WordPress theme for your business. Some themes are free; some are paid. Well, free themes are good for beginners, but they don't often offer essential features for serious business owners.
That's why it's always advisable to either choose a paid theme or go for custom WordPress theme development. Custom WP theme development is highly recommended if you want a tailored WordPress website.
If you opt for paid WP themes, you may have to pay somewhere between $50 – $1100 or more. However, if you choose custom theme development for your WordPress site, it may cost you somewhere between $10,000 – $40,000+ depending on your business requirements.
Plugins/Extensions
Plugins/Extensions are the backbones of WordPress. There are more than 54,000 plugins that you can use to strengthen your WordPress website. From free to paid, WordPress has all types of plugins to add functionality to your website and make it appear more professional.
That being said, there are multiple types of plugins you can use, from SEO to contact form, anti-spam, and a lot more. Talking about cost, it can vary depending on the type of plugins and how many plugins you use.
WordPress plugins can cost you $0 – $1000 or more. If you want to enhance your WP website's functionality, cut the clutter right now and leverage these plugins.
eCommerce Features
Creating an online store can sound like an intimidating task, but thanks to WordPress for making it easier than ever before. WordPress doesn't have any built-in eCommerce features. Therefore, it uses WooCommerce development to power millions of eCommerce websites worldwide. Also, there are so many attractive eCommerce WordPress themes that businesses can leverage.
Considering the requirements, functionality, and a lot of other things, eCommerce websites can be significantly higher in terms of everything, including cost. WooCommerce is a free plugin, but if you need additional features, you have to pay a good amount.
Having said that, no one can estimate an average WordPress website development cost when it comes to developing a WordPress-based eCommerce website.
Security
Security is one of the most crucial elements of your website. Of course, you want your audience to feel safe and secure while browsing or shopping on your website. Hence, you need to emphasize security. Having said that, you need to keep your WordPress website secure from hackers.
A standard technology that is used these days to keep any website safe is an SSL certificate. It keeps the user's internet connections secure. Having said that, a basic security plan starts from $40 a year, but it can climb up to $200 or more for advanced security options.
Maintenance
Now the cost of your WordPress website maintenance can vary dramatically. Depending on who performs the maintenance, it can cost accordingly. For instance, if it's in-house maintenance, it can cost you $0 – $30 per month.
However, a freelancer can charge you somewhere between $50 – $150 per hour depending on the skillset, experience, and a lot more. In contrast, an experienced  website development service provider can cost you somewhere between $200 – $800 or more.
WordPress Website Development Cost: The Final Tally
From the domain name, web hosting to design and themes, plugins/extensions, eCommerce features, and security, we covered everything. So these were some key and essential factors responsible to influence your WordPress website development cost. And we hope this post helped you with the million-dollar question — how much does it cost to build a WordPress website?
If you are planning to build a successful WordPress website, you must be ready to invest wisely. Remember, every good thing comes with a price, and WordPress is worth every penny. Good luck!
---
How much does it cost to hire a WordPress development agency?
---
How much does it cost to host a WordPress website?
---
What WordPress costs do I need to budget for?