We are excited to announce that HTMLPanda has been recognized as the top WordPress development company by ThinkMobiles. This globally recognized company makes premium and pro reviews about software and IT companies based on collecting genuine feedbacks and reviews from users.
We are privileged to receive this recognition from ThinkMobiles. Based in Ukraine, ThinkMobiles is a leading B2B platform for 50K+ software products and IT development companies. The company makes in-depth analyses. The rankings are calculated on verified client's reviews, client's experience, market presence, and other criteria.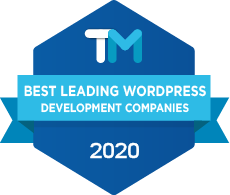 We are featured in the list of 15 leading WordPress development companies after qualifying ThinkMobiles' stringent feedback and review norms! Being featured on an eminent website like this one is a testament to our ability to provide outstanding results for our clients consistently.
About ThinkMobiles
Since 2011, ThinkMobiles has been actively involved in mobile app development and outsourcing. The company has participated in over 400 projects for companies in the EU, the USA, and Australia. With extensive experience in software development, they can detect what products bring value for money spent. Thus, they deliver free software catalog and expert software reviews.
Overview of HTMLPanda
Established in 2014, HTMLPanda is a highly-professional web development company that offers mobile-first, purpose-driven, informative, user-friendly, and quick loading websites on opensource technologies. With more than five years of experience in the web development industry, we develop purpose-driven, informative, and user-friendly websites. Adopting a unique methodology, our company has gained top-notch ranking in catering to various services, such as:
Web Development Services – We offer excellent web development services on multiple platforms such as WordPress, Drupal, Woocommerce, Shopify, Magento, and Opencart that drive online growth and deliver tangible business results.
Front-end Conversion – We offer front-end conversion services to boost your brand recognition through excellent user experience. We implement the pixel-perfect approach to code your PSD design in HTML markup. Our services include PSD to HTML, Sketch to HTML, and PSD to Email Template.
CMS Conversion – Our highly skilled developers convert your design into a well-commented CMS website, and technologies that we use for design to CMS conversion, are the newest ones. The services include PSD to WordPress, PSD to Drupal, and PSD to Mobile Website.
E-commerce Conversion – Our design to e-commerce conversion services offers retailers to ramp up their store with storefront designs, shopping carts, store management, and more to transform the way consumers purchase their goods and services. The services include PSD to Magento, PSD to Shopify, and PSD to OpenCart.
As a team of professionals, this was one of the most glorious moments for HTMLPanda, we are thankful to ThinkMobiles for including our name on the list. We serve to satisfy the needs of our clients, and we are looking forward to working with the same motive in the future as well.