HTMLPanda takes pride in knowing that we are skilled developers with a commitment to building rock-solid Magento websites for our clients. In an ever-changing digital world, we strive to remain a leader in the industry. We are gratified that Trustfirms recognized our Magento development capabilities and listed HTMLPanda as the best Magento service provider in the top 10 Magento development companies in India & the USA.
Know About Trustfirms
TrustFirms is globally recognized as one of the most popular B2B review platforms for top choosing technology, Mobile app development, Software development service companies. The platform helps in gaining maximum leverage for businesses by finding the top IT companies and mobile app developers.
Trustfirms ranks thousands of companies across a variety of industries based on their unique methodology that evaluates a firm's technical capabilities, market presence, and verified client reviews.
About HTMLPanda
Established in 2014, HTMLPanda is a highly-professional web development company that offers mobile-first, purpose-driven, informative, user-friendly, and quick loading websites on opensource technologies. With more than five years of experience in the web development industry, we develop purpose-driven, informative, and user-friendly websites. Adopting a unique methodology, our company has gained top-notch ranking in catering to various services, such as web development, front-end conversion, CMS conversion, and e-commerce conversion.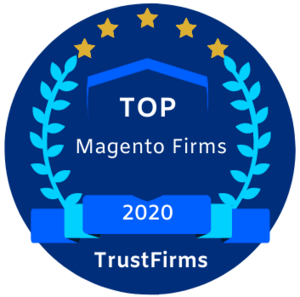 Why Choose HTMLPanda for Magento E-Commerce Development
With over 12% e-commerce market share, Magento has lots to offer for web development. HTMLPanda leverages below features and other hidden potentials of the platform to deliver excellent solutions.
SEO-Friendly Coding – We understand the shortcomings of Magento in regards to search engine friendliness and optimizes significant issues to make it search-friendly.
Audience-Centric UX – Our team develops your e-commerce website with thoughtful user experience, for higher add to cart and checkout rate.
Responsive for All Screens – At HTMLPanda, we build your e-commerce store highly responsive, which opens flawlessly on all desktop and mobile devices.
Page Speed Performance – We write optimized code for your Magento theme with useful cache management scripts for quick page load performance.
Experienced Magento Developers – Our Magento developers know how to get maximum out of the Magento platform, to build an advanced and competitive e-commerce store.
Post Launch Support – We are your web development partner. Our team works as your extended team, whether you plan for feature expansion or any task.
As a team of experts, getting ranked as one of the best Magento developers by Trustfirms was one of the most memorable moments for HTMLPanda, we are thankful to Trustfirms for including our name on the list. We serve to satisfy the needs of our clients, and we are looking forward to working with the same motive in the future as well.
We would love to here your comments & questions about this blog post. Send us your thoughts by completing the contact form.