HTMLPanda is a professional digital development company founded in 2014. It is a one-stop-shop offering a wide array of services that include Web Development, Front-End Conversion, CMS Conversion, and eCommerce Development. Under the firm leadership of their CEO, Prashant Sengar, their team of close to 50 professionals has successfully delivered more than 15K projects across the world with an astonishing customer satisfaction index of 98%.
As the CEO, Prashant looks after many aspects of the firm in a highly strategized and operates with a focused vision and experience. He said that the best service businesses could be offered, is to comprehend their ideas well and translate that idea into the apt technology solution. HTMLPanda was founded with this aim and since then has been helping businesses with purpose-driven website development service leveraging the latest technologies.
GoodFirms conducted one-on-one with CEO Prashant Sengar as part of their interview series. An extract of the enlightening conversation is drafted below.
All-Encompassing Web Development Solutions:
HTMLPanda follows a 100% in-house business model, completely avoiding any 3-party vendor involvement in any of their projects. Prashant shared that they have highly skilled in-house teams that possess valuable industry expertise in their specialized narrow fields. Where projects are allocated to the specialist team, skilled managers are also designated to the teams who supervise and ensure the highest of quality in all projects along with timely delivery.
Apart from a result-oriented methodology, the firm operates with a completely transparent communication providing responsive solutions to ensure business growth for its clients. Prashant revealed that their firm prefers HTML5/CSS3 for static website development and Magento WooCommerce for eCommerce websites. For a content-based website, the primary choice would be from Drupal and WordPress. During the development process, they always keep in mind certain aspects while choosing the right platform for development that includes CMS features, security, speed, SEO friendliness, flexibility, scalability, and responsiveness to a diverse range of mobile devices.
Dean Callaway, Technical Manager at Lingerie Heaven, was seeking a firm for a complete makeover of his website and said this about HTMLPanda after working with them: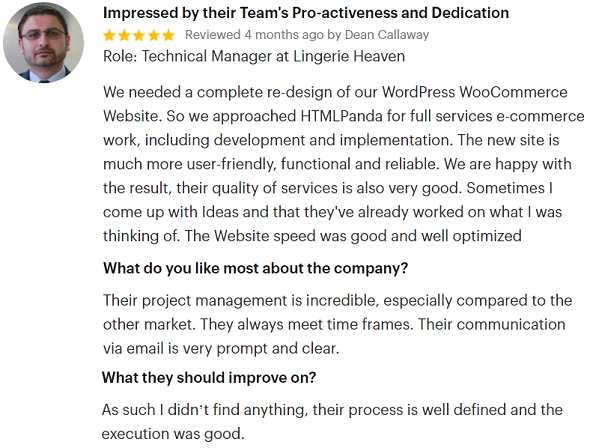 A proclivity to assign right talent to the right task and results-oriented approach has merited HTMLPanda a spot among the top web development companies in Massachusetts at GoodFirms.
Comprehensive Web Design That Caters to All the Needs:
The team of proficient designers at the firm understand the know-how of the Sketch app and sketch the client's designs into W3C validated and quick-loading HTML mark-ups. Their team holds particular expertise in WordPress CMS theming, where they code a client's PSD into WordPress themes, customized post types, and functionalities.
When asked about the factors that decide the cost of a project, Prashant explained that there are various factors involved that include design complexity, customization level required, navigation, required features, and requirements regarding speed and performance.
The able guidance of Prashant Sengar, the comprehensiveness of their technical expertise, and a personalized approach to all their projects will soon usher HTMLPanda into the list of the top web designers at GoodFirms.
Development Officer at Superbook, Andress Baldessari, hands out a 5-star rating to HTMLPanda at GoodFirms while stating: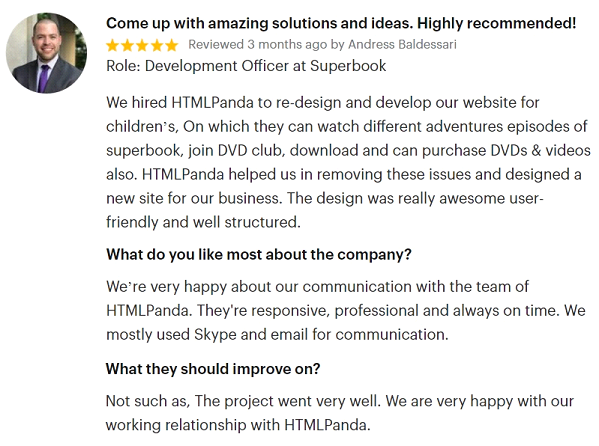 Throwing some light on the pricing model, the CEO said that the firm follows a Hybrid Fixed Pricing Model that is premised on a reasonably clear understanding of the scope and specifications associated with the project based on which a cost and timeline of the completion is determined.
For more information on the insights divulged by Prashant Sengar, please read the full interview at GoodFirms.
About GoodFirms
Washington, D.C. based GoodFirms is a maverick B2B Research and Reviews Company that helps service-seekers in finding web development and web design companies that are rendering the best services in the industry. GoodFirms' bonafide research process ranks companies, boosts their online reputation and helps businesses choose the right technology partner that meets their requirements.
About the Author
Anna Stark is presently working as a Content Writer with GoodFirms – Washington D.C. based B2B Research Company, which bridges the gap between service seekers and service providers. Anna's current role lingers her to shape every company's performance and critical attributes into words. She firmly believes in the magic of words and equips new strategies that work, always in with ideas, something new to carve, and something original to decorate the firm's identity.