The digital transformation of eCommerce is rapidly increasing. So, it is vital to pay attention to the underlying technologies that power Shopify stores and applications. According to fundera, there are 2.1M+ daily active users on Shopify.
Due to the vast growth of e-commerce industries, retailers must integrate the current e-commerce trends into their business. These trends will help merchants meet customer expectations and provide a smooth experience to users. It will make your business ahead of your competitors.
To implement the trends listed in the blog post, you can take help from a company offering Shopify development services.
This blog post will discuss the top Shopify trends in 2022 that can help you to increase your sales and ROI. 
What is a Shopify?
Shopify is a widely used e-commerce platform that lets users create an online store. It includes all the functionality to represent products online, track inventory, design a shop, accept payments, and a lot more. 
This platform makes the process effortless and helps businesses of all sizes to sell their products online.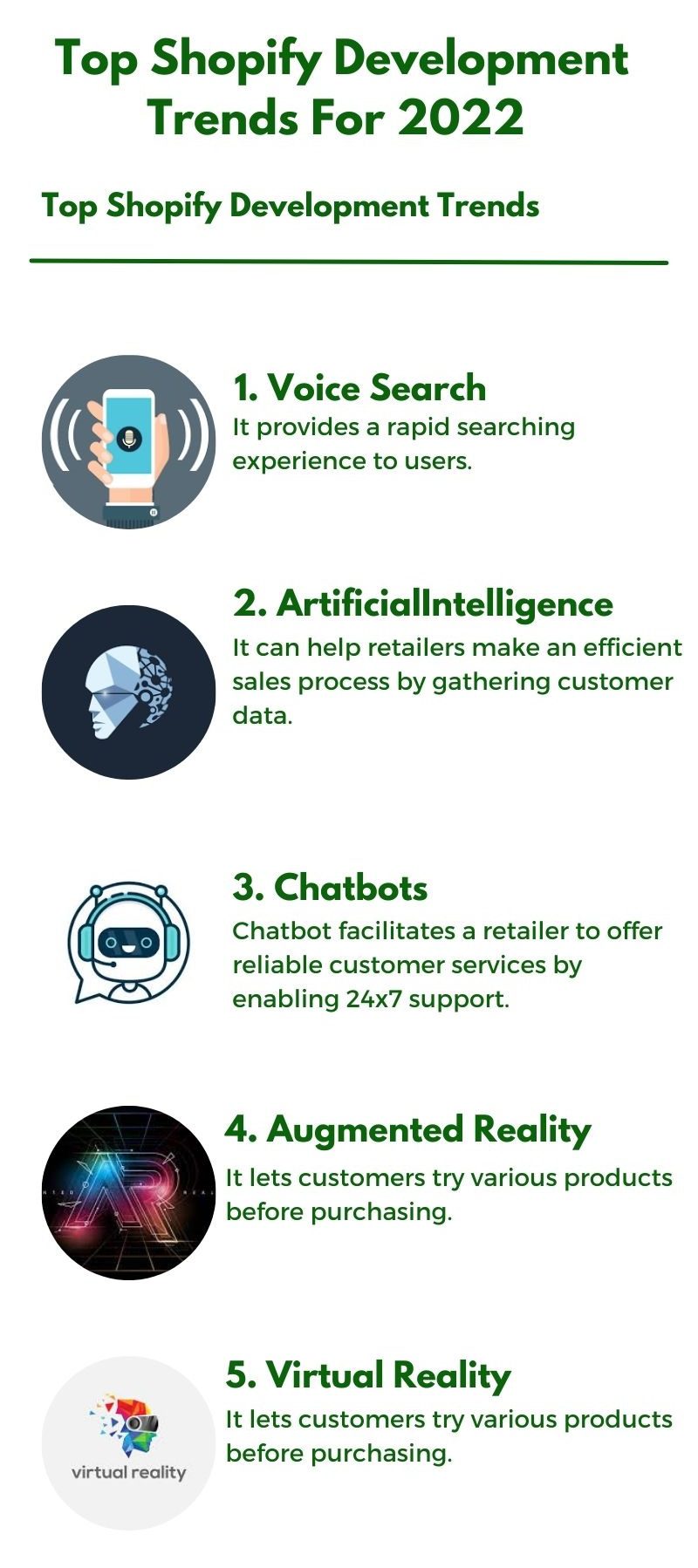 Shopify Development Trends
According to emarketer, there are nearly 40.2% of the US population use voice search.  Due to this reason, voice search is starting to become integrated into e-commerce sites.
This trend provides a seamless and rapid searching experience to users. It has been activated on multiple platforms, and it still keeps on growing.
Though AI is used across industries, it is more beneficial in e-commerce. Artificial Intelligence can make e-commerce better in many ways, such as through product recommendations and personalized marketing.
AI can help retailers gather customer data to create a more efficient sales process. Various e-commerce websites such as Amazon use their machine learning algorithms to recommend products based on past searches. Along with that, AI helps to provide customer support to answer questions from customers directly. 
Detailed View With Augmented Reality
In Shopify, you can provide an interactive experience to your customers by using the Augmented Reality concept. Unlike virtual reality, AR does not require special equipment as it relies on the user's phone camera. 
With offline shopping, customers can interact with the product in real-time. This is now digitally possible with the introduction of alternate realities such as AR. Unlike physical items in physical stores, Augmented reality provides better visualization to consumers about how certain products would fit into their everyday life. 
Like voice search, Chatbots are also getting wide attention. They can offer quick and reliable customer service by enabling 24 x 7 support and reducing human errors. 
Chatbots use NLP (Natural Language Processing) and artificial intelligence to understand what humans want. Along with that, it also guides an end-user about the desired outcome with as little work as possible. 
Moreover, this software application uses existing conversation data to recognize the kind of questions people ask. In addition, it also uses the NLP and ML to learn context and constantly get better to answer those questions in the future.
Customer reviews are not only crucial for physical products but also play an equal role in online purchases. A customer can make better purchasing decisions with these reviews. If a product gets a bad review, Shopify owners can remove that product from the site or show the average rating next to that product. This approach will help customers make buying decisions.
Shopify owners can use VR to let their customers try various products before purchasing. VR headsets help to provide an immersive environment to customers without leaving their offices or homes. This is the reason that makes VR enabled Shopify e-commerce sites popular. 
Headless commerce is the mechanism to separate the front-end and back-end of a website. It works by passing requests between the presentation and application layers through API (Application Programming Interface) calls. 
Headless commerce solutions store, manage, and deliver content without a front-end delivery layer. Therefore, developers use API calls to convey things such as blog posts, products, and customer reviews to any device. In contrast, front-end developers can work on how to display that content with any desired framework. In addition, front-end developers need not worry about updating databases in the back-end as they only have to perform a simple API call.
Moreover, along with applying the above-discussed trends, you can also hire a Shopify development company that will help you change your website's appearance. 
You can refer to this blog post to choose the best Shopify development company for your business.
Conclusion
Incorporating the above-discussed trends into your Shopify store will undoubtedly increase your revenue, provide uniqueness to your brand, and keep you ahead of your competitors.
So, integrating these trends into your website directly enhances its functionality and provides a better user experience to your customers.