The first eCommerce system was Compumarket, introduced in May 1989 by Sequoia Data Corporation. They started with buying and selling goods by transferring funds or data using credit cards via an electronic medium, the Internet. Today, these transactions are mainly used for business-to-business (B2B), business-to-consumer (B2C) websites, online marketplace, and third-party integration services.
E-commerce helps with various factors, including a faster buying process, cost reduction, flexibility, limitless reach to consumers with quick responses, etc. When it comes to customized and user-friendly eCommerce web solutions, HTMLPanda is an ideal choice. This article aims to offer complete information about HTMLPanda – providing robust and scalable eCommerce development.
HTML Panda – An Excellent eCommerce Website Development Company
HTML Panda is a leading provider of professional custom websites for multiple categories of businesses, freelancers, and agencies worldwide. They specialize in eCommerce development with cutting-edge technologies and trends that deliver top-notch web solutions. The company was founded in 2014 with headquarters in Boston, Massachusetts, and other offices in NYC, United States.
HTML Panda's diverse client group approaches them to create purposeful and user-friendly websites that increase their online presence and grow businesses. The company's web developers and designers are highly skilled and experienced professionals who focus on pixel-perfect eCommerce websites that can generate higher conversion rates by providing seamless user experience and interfaces.
The company's vision is to deliver unique customized eCommerce websites with excellent customer service. The below-mentioned client reviews prove that HTMLPanda has impeccable professionalism and a can-do attitude providing complete client satisfaction.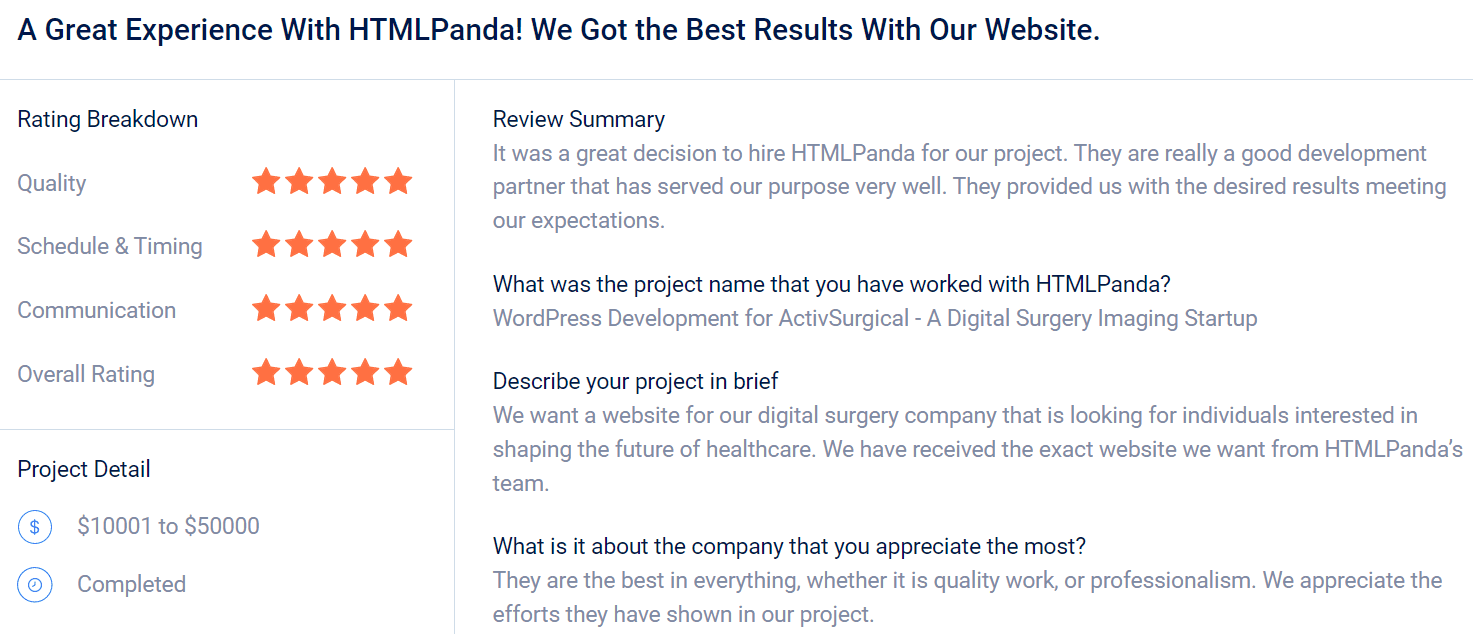 Click for more reviews.
Excellent client reviews and consistency in providing best-in-class eCommerce web solutions have helped HTMLPanda achieve a prominent position in the list of top e-commerce development companies in Massachusetts by GoodFirms.
HTML Panda's Professional eCommerce Web Development Services With Pixel-Perfect Designs
The company has qualified web developers with expertise in pixel-perfect design that helps maintain the alignment of the website. One of the most significant advantages of the pixel-perfect invention is that the website works smoothly and is responsive to multiple platforms and devices.
They are committed to offering streamlined development, quality assurance, excellent coding, and performance optimization to develop faster-loading websites, which is likely to drive more traffic and improve customer engagement.
Different Types Of E-commerce Web Development Services Offered By HTML Panda:

Custom eCommerce Development
HTML Panda's eCommerce development experts comprehend clients' business requirements to provide outstanding customized websites. The business requirements include monolithic or decoupled custom-made architecture websites. The company offers integrated features like AR, chatbot, voice search, etc.
Platform-Based eCommerce Development
Their professional web developers possess expertise in creating the most competent eCommerce websites with various platforms, including Magento, Shopify, OpenCart, Lightspeed, Headless, and WooCommerce, with excellent UI/UX designs.
E-commerce Migration
The scalable and robust eCommerce migration solutions with fully customized architecture. The dedicated team ensures that migration of the website's data security and interaction is top-notch.
API Integration
They integrate internal and external APIs into the websites for platforms, including Amazon, Shopify, and several others, with different goals and objectives.
Multi-Vendor Platforms
The team is committed to bringing various vendors to an efficient and effective single-powered eCommerce platform for multi-vendor marketplace requirements by utilizing cutting-edge technologies.
Design to eCommerce
This service helps clients convert design files (PSD, Sketch, PNG, etc.) to qualitative eCommerce website themes. The client provides designs, and they transform them into the most appropriate and appealing themes according to their requirements.
The Company's Clientele
Why Does GoodFirms Cite HTMLPanda As Massachusetts's Most Professional Custom-Made E-commerce Web Solutions Provider?
HTML Panda's team works with dedication and determination to provide best-in-class eCommerce websites with customization that distinguishes them from their competitors. The team ensures that quality assurance, on-time delivery, NDA (Non-Disclosure Agreement) compliance, excellent support, and maintenance with a money-back guarantee are served to their clients globally.
They carefully listen to each client to understand their business requirements and expectations. The team thoroughly researches and creates wireframe designs to discuss making a more engaging website that delivers exceptional performance. As per this analysis, they build and develop, revise, test, and deliver the final product to their clients and achieve complete client satisfaction.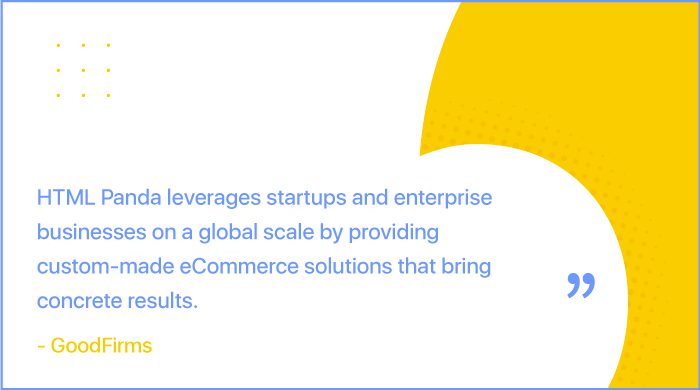 Conclusion
The rapid growth of eCommerce businesses in the US and worldwide demands more reliable and robust website development. HTML Panda is committed to providing top-notch eCommerce solutions with complete client satisfaction, making them a unique and desirable company to work with for companies worldwide.
About GoodFirms
GoodFirms
is a B2B research, review, and listing platform helping businesses accelerate their digital journey and maximize modern technology's value. The company connects service providers with service seekers through a comprehensive and thoroughly researched fact-based list of the best services and solutions. Recognized as the most reliable source for the B2B market, GoodFirms has world-class experience with partners across the globe.