When more and more consumers are turning to online shopping, it is vital for a business to have an eCommerce website. It not only helps them to attract visitors but also provides a seamless shopping experience and access to the right information.
Creating an online store is not all about product range, pricing, and services. It should also satisfy and attract buyers in terms of functionality traits.
So, it is essential to be aware of the eCommerce Site Development functional requirements. 
This blog post will provide you the information on the same context.
So, keep reading to get an insight into the functional requirements to keep in mind during eCommerce website development.
Various Functional eCommerce Site Development Requirements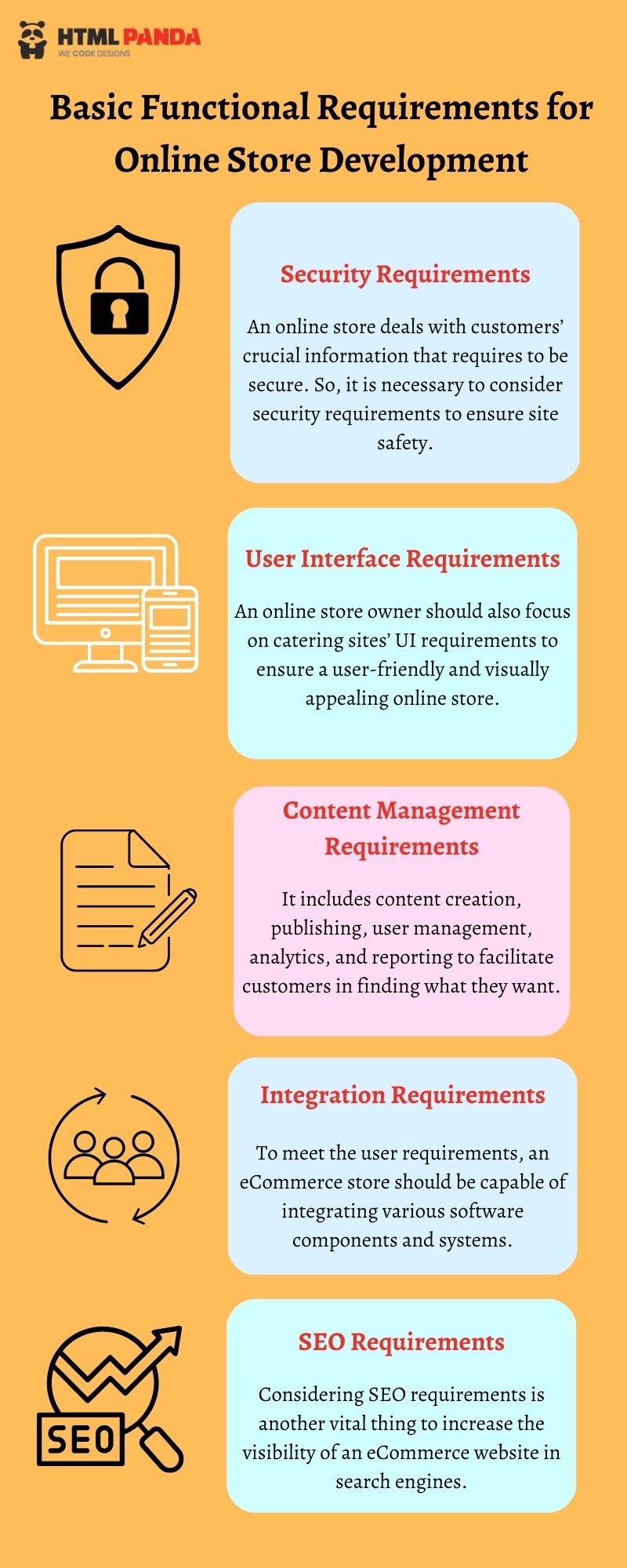 If we talk about the functional needs, they are basically responsible for your website's behavior. However, they can vary as per your industry niche and business needs. 
Despite different niches, there are some common needs that every business owner must focus on.
Let's shed light on them.
eCommerce Site Development Security Requirements:
An eCommerce site must always deal with crucial information like customers' personal data, payment details, etc. 
The first thing that every online store owner must remember is their website's security. Though it is a crucial aspect even for an ordinary site, you have to focus more on developing online stores. 
It is important to restrict unauthorized website success, detect and remove malicious software, and ensure hardware protection. This will help you gain your website visitors' trust and convert them into valuable customers. 
Let's have a look at some key eCommerce Site Development security requirements, an online store owner must consider –
Secure Login and Registration:

A secure login and registration process must exist. You can use strong passwords and multi-factor authentication to unauthorized site access. This helps to protect customer accounts and prevents hackers from gaining access to sensitive information.

SSL Encryption: Your eCommerce site should use SSL encryption to protect customer data. SSL encryption ensures that this information is encrypted and cannot be intercepted by third parties.
Secure Payment Gateway:

Another one is integrating a secure payment gateway. This will ensure customers can make payments without compromising their credit card information. It should be PCI-compliant and encrypts all sensitive customer data.

Regular Security Audits:

An online store must undergo regular security audits. It helps you identify potential vulnerabilities and ensure that all security measures are up-to-date. 
User Interface Requirements
The essential aspect of any eCommerce website is its user interface. 
An eCommerce site development company must consider these key user interface requirements. It will help them to build a user-friendly, easy-to-navigate, and visually appealing online store. 
Easy Navigation: Your eCommerce site should have a straightforward and intuitive navigation menu to let users find the products easily. Navigation should be consistent across the site; categories and subcategories should be labeled and organized.
Responsive Design: It is important to consider responsive design principles during eCommerce site development is important. It should be optimized for viewing on different devices, including computers, laptops, tablets, and smartphones. This ensures that your site is accessible and usable by all visitors, regardless of their device.
Clear Product Display: Your product page should be designed with clear and high-quality images to give customers the required information. The layout should be consistent and easy to navigate. Giving detailed product descriptions will help them to make informed purchasing decisions. 
User-Friendly Checkout: There should be a simple checkout process. To make a purchase, only a minimum number of steps are required. This will make it easy for customers to enter their shipping and billing information and select their preferred payment method.
Brand Consistency: An online store must have a consistent color scheme and visual elements. It should align with your brand identity. This helps to build brand recognition and trust with customers.
Content Management Requirements
This is another vital thing in eCommerce system requirements. It involves managing product information, descriptions, and images. This will ensure that customers can find what they are looking for. 
Some content management requirements that you must consider for your online store are –
Content Creation: A CMS must provide a user-friendly interface allowing creators to create, edit, and format content easily. It should support various media types, including text, images, audio, and video.
Content Organization: There should be a feature that enables users to organize content. It can include tagging and categorizing content, creating custom taxonomies, and defining relationships between content items.
Content Publishing: A CMS should enable users to publish content to various channels. This can include websites, social media platforms, and mobile apps. It should also provide tools for scheduling content publication and setting up approval workflows.
User Management: There should be tools for managing user access and permissions. It includes creating and managing user accounts, defining roles and permissions, and controlling access to specific content and features.
Search and Retrieval: Another must-have feature in a CMS is the robust search functionality. This lets users quickly find the content they need. It should include full-text search, filtering and sorting options, and the ability to search across multiple content types.
Analytics and Reporting: The CMS should provide tools for tracking content usage and engagement. It includes analytics dashboards, reporting tools, and the ability to integrate with third-party analytics services.
Integration Requirements
Another vital functional requirement is to define what a system should be capable of doing to meet the user's needs. This specifies how different software components or systems should be integrated to work together seamlessly. 
An online store typically involves integrating various software components and systems. This includes payment gateways, inventory management systems, shipping providers, etc.
Some functional integration requirements an online store must consider are –
Payment Gateway Integration:

An online store always requires integrating a secure payment gateway to provide users with a reliable checkout process. There can be more than one payment gateway for more options. 

Shipping Provider Integration:

An online store needs one or more shipping providers for order fulfillment and delivery. 

Inventory Management Integration:

There should be an inventory management integration to track product availability and ensure accurate order fulfillment. This eCommerce system requirement integration may include specifying data formats for inventory data, inventory discrepancies, and handling out-of-stock items. 
Besides, there can be CRM integration, defining security protocols, and specifying data encryption standards. Also, to meet increasing market demand, you can define response time, throughput rates, and making performance metrics.
SEO Requirements
The last but crucial eCommerce website requirement is making your site SEO-friendly and optimized for search engines. You can even hire an eCommerce development company to analyze your site content. They can apply the necessary changes to make it more visible in search engines. 
This will help you attract even more potential customers and boost the overall performance of your online store. 
Some key SEO-friendly requirements that you must consider are discussed as follows –
Website Structure:

A well-structured website with a clear hierarchy and easy navigation will improve SEO-friendliness. Organizing your content into categories and subcategories and using internal links to connect related pages is also important.

Site Speed:

It is another crucial factor in determining the user experience, that also affects search engine rankings. An online store should include measures to optimize site speed, such as compressing image sizes and others.

Mobile Responsiveness:

In today's digital era, more users are accessing the internet via mobile devices than ever. Functional requirements should ensure the website is optimized for mobile devices, with appropriate viewport settings.

URL Structure:

A website's URL structure can significantly impact search engine rankings. URLs should be concise, descriptive, and optimized with relevant keywords.

Meta Tags:

Meta tags, like title tags and meta descriptions, are important in providing page content information to search engines. 

Content Optimization:

High-quality, relevant content is crucial for SEO. The content must be optimized with relevant keywords, including header tags, anchor text, and alt text for images.
Conclusion
Whether it is about including a user-friendly interface, secure payment gateway, or efficient search functionality, an online store requires various things to incorporate for success. 
Besides providing convenience to the customers, they are also helpful in enhancing their overall shopping experience. This ultimately leads to higher customer satisfaction and increased revenue for the business. 
So, hire an eCommerce development company and provide a top-notch online store to your website visitors.
Best of Luck!