The debate about Sketch vs Photoshop keeps on raging. But there is no denying that both tools are unique in its own way and choosing one of them is quite difficult. Today we're going to discuss why designers are moving to sketch.
The user interface design has changed drastically in the past few years, and arguably, Sketch is ruling the market on UI design. However, Photoshop is still opted by designers to design web layouts or digital designs world widely. It is frequently used to edit the image, video, and give a stunning effect. Web designers use Photoshop to come up with striking websites. It is one of the best commercial tools for designers, and many designers still considered as the best tool for designing.
As per the stats, 74% of people are likely to spend time on the website if they like the user interface. When it comes to comparing Sketch and Photoshop, Sketch wins the game today in designing the best user interface. It helps designers to organize the documents in a perfect way to produce a clean interface.
With the development of Sketch, the use of Photoshop has been reduced by people as Sketch provides enough tools and plugins to get the work done. Choose a service provider who has expertise in Sketch, and that can make your website more attractive and appealing.
Thorough Comparison of Sketch Vs. Photoshop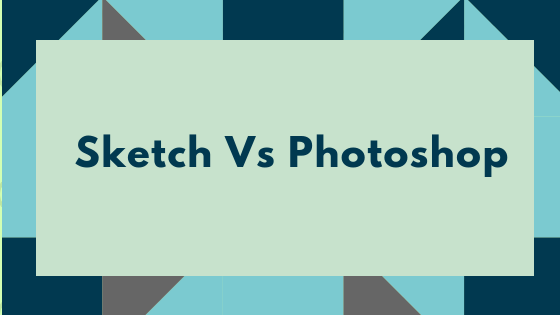 Straightforward Canvas Prototyping
Photoshop allows you to draw a figure and you can do anything you want. On the other hand, Sketch allows you to work on desktop and mobile versions simultaneously with the use of craft plugin and it is interactive. If you are a designer you are probably using a Mac anyway and Sketch supports Mac OS.
Vector vs. Raster
The main difference between vector and raster graphics is that raster graphics are composed of pixels, while vector graphics are composed of paths. A raster graphic, such as a gif or jpeg, is an array of pixels of various colors, which together form an image.
However, Photoshop is a raster-based program, while Sketch is a vector-based design program. Since Sketch is more lightweight on features, everything fits on the right. One can't beat the look of vector formatting and with more screens at higher resolutions all the time. When we talk about Sketch Vs., Photoshop, vector designs in Sketch are sharper, cleaner, and look better.
Photoshop (Smart Objects ) and Sketch (Symbols)
Symbols are, basically, a group of objects, sort of like smart objects in Photoshop. Both the tools are quite similar, but Sketch lets you swap an entire icon set or state at a time. And, a large number of icons and divots can be essential to help in to design the project. In Sketch, you can override symbols and object styles. In Photoshop, a smart object has a universal property.
You may also like to read: Step by Step Guide for PSD to WordPress Conversion
Efficiency of Exporting
When it comes to talking about the ability to export, Sketch is easier and faster to export. It saves your time as you can drag artboards to your desktop and save them, and it is easy to specify the resolutions with Sketch. With Photoshop, now has a "quick export to png" option when you right-click on items. It's just a little faster and better implemented in Sketch.
Speed and Stability
The Sketch is lightweight to run, and it also creates much smaller files. Therefore, it is speedy and allows you to have many artboards on screen and quickly move things between them. Photoshop is big and powerful, but that pushes out to file size.
Photoshop can be slow, so you need a lot of RAM, processing power, and fast storage if you want to open many artboards simultaneously. The Sketch is a big deal when you want to create something that will load lightning fast.
Plugins Support
Sketch has a lot of plugins, that allow users to automatically populate text fields to make your workflows seamless in Sketch. There is an extensive range of plugins databases, and most of them are free. Most plugins are geared towards simplifying workflow and performing specific actions faster.
On the other hand, Photoshop also has a range of plugins to choose from. They are not as focused on UX/UI design because it's a photo editing tool. So, Sketch is the new hip thing with new plugins and sites dedicated to it are popping up everywhere.
Shared/Linked Styles
Shared styles in Sketch work a lot like CSS stylesheets. When you add a text box, and you are working from a template, Sketch automatically adds a technique to it. It is also easy to create and define new styles. This saves most of the time and effectively eliminates style inconsistencies between revisions.
Conclusion
When we talk about Sketch vs. Photoshop, there is no doubt that Photoshop is a powerful design tool. But, nowadays, more designers are looking to build digital products in native environments, which could be achieved with Sketch. That is why Sketch has become a preferred option to choose from for all the designers. The Sketch is faster and feels a lot more like an actual UI design tool than Photoshop, and you will be able to build things much more quickly.
We would love to here your comments & questions about this blog post. Send us your thoughts by completing the contact form.