PSD to HTML conversion is one of the most crucial, prevalent, and considerable steps in the web designing process. In this blog post we're sharing top 10 tips to use in PSD to HTML conversion.
To create web pages, a designer has to code the markups for the design layout provided to him or her as a PSD file. As per the stats, there were an estimated 3.9 billion internet users worldwide in 2017, and the numbers are clearly on the rapid rise.
To ensure that the conversion is top-notch and the markup code produced is flawless, you need to be well-versed with the technology. Moreover, it would be best if you also were seasoned enough to anticipate any issues and rectify them beforehand.
Before jumping right into the best tutorial and tips of PSD to HTML conversion, let's first address some common questions related to it.
What is PSD to HTML Conversion?
Photoshop Document is abbreviated as PSD, whereas Hypertext Markup Language is abbreviated as HTML. The designer designs a webpage layout in Photoshop, which is known as a PSD file. The conversion of this PSD file into a markup language is called PSD to HTML conversion. Most of the custom website creation is done through PSD to HTML conversion.
Also, HTML elements, which form the essential building blocks of web pages, resulting in web pages that look thoroughly professional and user-centered. Along with that, some of the most acclaimed benefits of using this method is clean and semantic coding websites, pixel-perfect conversion, W3C validated websites, cross-browser compatibility, and so on.
PSD to HTML Checklist
In case of not planned well, this workflow can be time-consuming, and thus you will face lots of issues to complete the task successfully. Take a look at PSD to HTML conversion checklist to avoid the hassle.
Make sure all layers are named.
Place all layers into a group folder.
Make sure fonts are consistent throughout the design.
Make a list of all fonts and ensure whether they are web or non-web fonts.
Make sure visited or active states, hover, etc. are specified properly for every button or link.
Make sure the use of pixels in case of sizing the fonts rather than points.
Ensure the consistency of color throughout all PSDs.
Ensure the same size of all images.
Follow any special instructions.
PSD to HTML Conversion Tutorial Step by Step:
Maintaining the Layers
Designers merge the layers while converting PSD to HTML markups to save space. However, this approach leads to issues that are faced by developers in the later stage of web development. Layers carry information such as font sizes, dimensions, and text transformation, which developers need throughout the process.
Consistency in Design
The website design should be consistent so that it looks professional and hence, engages users. Global design elements like buttons, rounded labels, header, and footer need to be used with consistent height, width, border radius, and padding, etc. More exemptions mean more code and increased development time.
Rollover Buttons
Adding rollover to the buttons, images, and other calls to action links make them stand out among other action states. When you create rollovers, your web page becomes more intuitive, and users will be able to get an improved experience. You can apply rollover for buttons, images, boxes, and other design elements.
Keeping the PSD Files Organized
When your PSD is well-structured, the outcome is bound to be better. It becomes easier for a coder to look for the desired graphic layer, section counts, and other elements when the PSD file sent for the conversion is organized well. It minimizes the time consumption for PSD to HTML conversion and increases the productivity of developers.
You may also like to read: Guidelines for PSD to Responsive HTML Website Conversion
Get to Know About the Tools
Before you start the process of PSD to HTML conversion, you must be well-versed with all the tools required in the process. A little knowledge is always dangerous and may lead to flawed markup that would hamper the performance of the website. Adobe Photoshop, JavaScript, jQuery, CSS3, etc. should be on the checklist of the designers.
Use Twitter Bootstrap
Twitter Bootstrap is a great way to design a responsive website. This framework makes use of HTML, CSS, and JavaScript to create responsive web pages on the fly. If you are building sites without Bootstrap, you are missing out on something great.
Understanding the Site Structure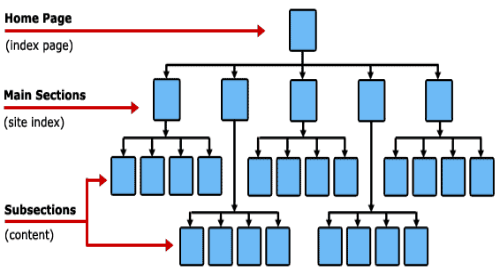 It is vital to understand the structure of the website before you start the conversion. You should be clear about navigation, main header, body, and footer so that the design you create fulfills the requirement and the purpose.
Keep Elements on Grid
Grid is like a set of rules that lets designers keep every design element sync with the overall design. Shape, placement of the objects can be determined well when placing all the elements on the grid. The design elements stay proportional and lead to better web design.
Content Flexibility
The content that you post on the website might change at the later stages of the website design. Keeping the text area non-flexible restricts you to add an extra text if needed. You must have content flexibility in your mind while web designing so your design layout is not disturbed, in case of the addition of some extra content.
Watch Over on Font Rendering

The fonts are rendered differently on different browsers and operating systems. You always keep in mind this thing while going for this conversion. Before making the design live, you should always check how font anti-aliasing and spacing appear on the browser.
Final Thoughts
These useful tips are the ultimate resources that would help the designers get past the mistakes they commit while providing PSD to HTML conversion services. Following these tips will make sure that you do not repeat the same mistakes that lead to flaws in your web design.
We would love to here your comments & questions about this blog post. Send us your thoughts by completing the contact form.